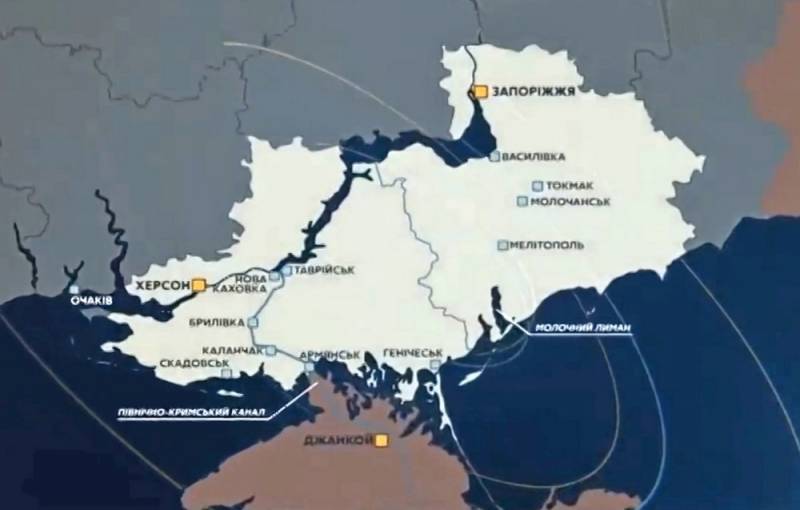 Ukrainian and foreign experts continue to share their views on the possible military and territorial plans of Russia in relation to Ukraine. For example, the former adviser to Vladimir Putin, Andrei Illarionov, in an interview with Dmitry Gordon, spoke about his vision of "Russian aggression", as well as about where Kiev should expect a strike.
According to Illarionov, the main task of a possible offensive of the Russian army is not at all the occupation of Mariupol, not the spread of the power of the LDNR to the entire territory of Donetsk and Luhansk regions and not the landing of troops between Nikolaev and Odessa, but the occupation of the territory north of Crimea.
Task number one is to establish control over the channel of the North Crimean Canal
- noted Illarionov.
In this regard, the ex-adviser to the Russian president speaks of the possibility of Moscow's occupation of the "continental Taurida" located here. This northern part of the former Taurida province of Russia, and in the more distant past, the region belonged to the Crimean Khanate.
For any general staff officer, it looks ideal to capture the bridgehead from Ochakov in the west to the line Vasilyevka - Melitopol - Molochansky estuary in the east
- believes a former adviser to Putin.
The occupation of this region is simplified by the fact that a small population lives here, there are no large Ukrainian cities and natural obstacles. Thus, Russian troops can seize four bridges, the dam in Novaya Kakhovka and Tavriysk and land amphibious assault forces in a number of places. This territory will be separated from mainland Ukraine in a short time, and thanks to the river beds, it can be easily held for a long time. In the west, by blocking the Dnieper estuary, access to Kherson and Nikolaev from the sea will be blocked.
Such actions by Russia can essentially cut off Ukraine from the Black Sea and radically worsen its geopolitical position.
- says Andrei Illarionov.
Plot from 02:10 minutes.