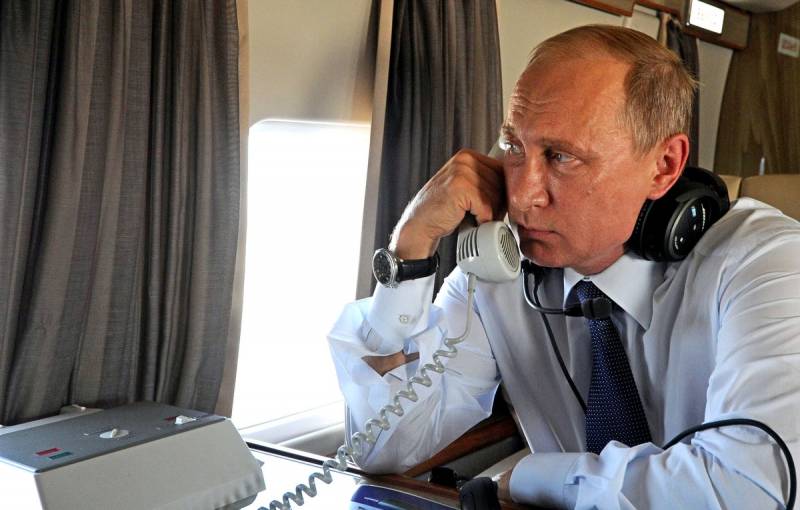 В
the first part
we examined the motives that prompted Zelensky to start an exacerbation in Donbass, and who is behind it (both behind the exacerbation and behind Zelensky). In the second part, we will consider the motivation of all parties involved in the conflict.
What Kiev is striving for
I hope you read Part 1. Now ask yourself a simple question, why does Zelensky need this aggravation? Although he looks like a not very smart person, and acts like a not very smart person, he is not at all such, he is clearly not inclined to suicide and does not suffer from self-harm mania. Why would he want to tease the polar bear if it could threaten him with the loss of statehood? Just to raise your fallen rating? Don't make me laugh, I beg you - why would a future deceased or, at best, a political emigrant need a rating? Go there in Washington and show everyone your rating? Because the cemetery has a high rating at all unnecessarily. This means that we cross out the rating (and he won't raise it in this way), voters who voted for peace will not raise it for him, and those who voted for the war don't consider the Miserable Clown theirs, at best they will be hanged last.
What do we have left? Re-signing "Minsk-2" on new, favorable conditions for Ukraine with the involvement of the United States and Britain? A good option! But for this Zelensky does not need a total military defeat and a complete defeat of the Armed Forces of Ukraine. He needs a small local war, maybe even a small military defeat, which will negate Minsk-2 and put the Kremlin in front of the need to review and renegotiate it on new terms. But how to explain to Putin that the Armed Forces of Ukraine is going to make a pretend war if he doesn't even pick up the phone? And where are the guarantees that his Buryat horse-diving armored divisions will stop at the borders of Donetsk and Lugansk regions, and not in Kiev or on the right bank of the Southern Bug? Why does Vova Zelensky need such risks? Then it is better to leave it as it is - no war, no peace, Russia is an aggressor, but we are in a house.
Agree that the noughts and crosses somehow do not converge. The pathetic Clown needs this war even less than the saber-toothed northern fire-breathing dragon. What makes a moth fly into a fire? Let's think about it. You guessed right - the offers that you cannot refuse, that you have received, you know where from. Why did Vova play the piano for two years, and now, as he broke loose from the chains? What happened in 2021? Nothing, except that there was a changing of the guard in the White House. It seems that we have empirically found the reasons that made Vova Zelensky change the piano for a bulletproof vest. And the reason is Joe Biden. And you said you were a senile old man. He will also show you who is the old man and who is the senile. Now Vladimir Putin has to look for an answer to the question of how to avoid a war with an insane neighbor?
Why Putin does not want to communicate with Zelensky
As a result, Moscow switched on the most severe strict regime on all available communication channels, except for the personal one between the two presidents. The "subscriber is temporarily unavailable" mode is enabled there.
But let's get straight to the grades. For some reason, there was a discrepancy in the testimony. Kiev, represented by the press secretary of the Ukrainian president, Yulia Mendel, claims that it applied to the Kremlin with a request for direct telephone conversations between the leaders of the two countries, but did not receive an answer, and Moscow, represented by Putin's press secretary, Dmitry Peskov, refutes this statement. At least Peskov, in his words, does not know anything about such requests. Who in this situation to believe, everyone decides for himself, but I am more inclined to the Ukrainian version. And that's why.
There is a subtle psychological moment here. A kind of chess duel. Kiev sacrifices a pawn, but Moscow does not take it, because it is aiming at the knight. The horse in this situation is Washington. Now, tell me, what can Putin talk about with the dumb Clown? He has no text according to the script. His business is to be silent and only when it is necessary to say: "The meal is served!". Or in the Ukrainian interpretation it sounds like: "Ukraine is at war with Russia. Ukraine's place in NATO! " The task of the Kremlin is to enter into a conversation with the scriptwriter of this action, who is still behind the scenes. Moreover, to enter into this conversation not from a weak negotiating position, but from a position of strength. And this, I can tell you, is an almost impossible task, because all the threads of control are in the hands of Washington, Moscow is driven into a corner from which there is no way out, any move in response to a possible attempt to de-occupy Donbass by Kiev will be a losing one for it. ... A kind of zugzwang, if we continue the chess terminology. She cannot but answer it - this is a loss of face, both on the inner track and on the outside. On the domestic track, most Russians will not forgive the Kremlin for betraying Donbass, after which Putin's star will rapidly slide down. And on the external track, this will be regarded as a loss for Moscow, especially after her words that she will not give up the Donbass. As a result, all the points that the Kremlin scored after the successful operation in Syria and the brilliant resolution of the Armenian-Azerbaijani conflict will be burned. And if Moscow responds, then it will instantly be regarded by the entire world "progressive" community, as open aggression and interference in the internal affairs of a sovereign country, with all that it implies.
Putin's task in this situation is to maintain the status quo. Those. he fights for a draw - no peace, no war, and waits for Ukraine to fall apart under the weight
economic
problems, leading her in a vicious circle "Minsk-2" (in order to finish off Kiev, not by washing, so by rolling). From my point of view, this is an initially doomed undertaking, because this can continue indefinitely, as long as this overseas colony is needed by its Masters, as an element of pressure and containment of the Russian Federation. Putin should have played to win in 2014 (then there was still such a chance), but now the situation is lost, he is fighting for a draw, but on the verge of defeat, because the keys to this box are not in his hands, but in the hands of Washington. When the White House wants it, it activates this button, sacrificing a pawn for Ukraine, sending it into the last and decisive battle to restore its lost territorial integrity, after which Moscow, having devoured it (and there will be no choice!), Will lose this game, having received it together with defeated Ukraine and the lowered "Iron Curtain-2.0" with all the ensuing bonuses (about which below). And now Washington can endlessly blackmail Moscow with this trump card, squeezing out the solutions it needs (which, I don't know, most likely, according to the Chinese case).
Moscow can reverse this trend only by creating threats to Washington that are incompatible with preferences from a possible victory in the Ukrainian party. When the victory for the White House turns out to be Pyrrhic. And this is not at all what you are now thinking. There is no military solution to the problem. We will erase Washington and its surroundings from the face of the Earth only in response to a direct and obvious threat to our existence, according to the principle: "Why do we need a world without the Russian Federation?" I hope it will not come to that. The Kremlin can only blackmail America through its alliance with the PRC. This is the same nightmare that the United States wants to avoid, but which will be salutary for us if the Iron Curtain 2.0 is lowered in front of us. Yes, we will bury this territorial misunderstanding called Ukraine, yes, we will make us fear and tremble all Washington's limitrophes and mongrels, from the Baltic states and Georgia to Poland and the bureaucrats from the EU. Let Washington eat up wordless Europe, which after that will fall at its feet as a prize (and the war was fought for it here, if someone has not yet understood), and we, with China and the rest of the free world, which respects only force, primitive military force, will create an alliance that Washington will never defeat. He, of course, will be able to prolong his existence, eating up the corpse of defeated Europe, but his days will be numbered, because this resource base is extremely limited.
Washington will get 370 million US and Canadian markets and 510 million EU markets (including Britain) with limited raw materials, for access to which a war will break out between the US and China, which the US cannot win by force in 3 years. Those. they have only 3 years left to defeat China, which is gaining military strength, economically Beijing has already bypassed America and continues to increase its advantage (no covid takes it!). And a potential military and economic alliance between the Russian Federation and the PRC nullifies Washington's chances right now. Those. America is losing even these 3 years of relative advantage over the Celestial Empire. In 3 years the rates will triple. So why should the White House push the Kremlin into the arms of Comrade. Xi right now? And Moscow will have no other choice. Moreover, given the level of tension that has arisen now between Washington and Beijing, China will have no other choice but to unite its efforts against a common enemy. Henry Kissinger's dreadful dream will come true.
It is this card that Putin wants to play, refusing to communicate with the not decisive Clown, pulling his troops to the Ukrainian borders, forcing his overseas Master to scratch his turnips and think what kind of game the Kremlin has started? Although I would not scratch anything in his place. It is already clear from Moscow's steps which scenario it has chosen for itself. She had only two options.
First
- if the Kremlin does not want to get involved in a conflict with Ukraine and is trying in every possible way to delay its beginning, it will have to very clearly and extremely rigidly designate the banks over which it is impossible to swim. Those. he will have to clearly articulate that he does not want a conflict, but if it is initiated by the Ukrainian side, then nothing will stop him in this case. This will be the end of Ukrainian statehood, and we ourselves, as a winner, will decide in what status this territorial misunderstanding will continue to exist.
If Moscow does not make such a message, it will be clear from this that it has chosen for itself
second
a variant of the development of events in which she sits on the shore and lazily and restrainedly watches the escalation of events in the Donbass, not reacting in any way to the preparations of the Armed Forces of Ukraine for the use of force to resolve the issue, thereby driving Kiev into a pre-prepared trap, so that when the trap slams shut, respond to such steps with all the force of their arms and to solve the Ukrainian problem by surgery radically once and for all. The statements already made by Russian officials are enough to understand that Moscow has chosen the first option for itself - maintaining the status quo.
From the fact that Biden called first and offered a dialogue, it became clear that Putin's plan worked, and Washington took the bait. Negotiations begin on an equal footing. By playing in silence with Zelensky, the Kremlin achieved an equalization of its negotiating positions with the White House at the initial stage. It would seem that the minimum task has been solved. But you don't know Putin well, he plays to raise rates, to gain an advantage in the negotiation process. This is how he differs from Zelensky. He would have fainted - Biden himself called me, life was good, the white gentleman chose me as his beloved wife and promised to indicate in his will, on this occasion - a banquet and festivities. Putin plays for everything. He's raising the stakes. Let me remind you that Biden invited Putin, as well as the leader of the PRC, Comrade. Xi, on the international talks on climate change, to be held April 22-23, in which the leaders of the 40 countries most affected by global climate change are expected to participate. The invitation was received on March 26. As of March 29, Putin has yet to agree to it. At least that's what his spokesman said: "There is no [decision on participation] yet. I do not yet know whether the invitation has reached us "(direct quote from Peskov). On April 13, a telephone conversation took place between Biden and Putin, at which the American president repeated his invitation to the summit and even started talking about a personal meeting. Nobody knows what Putin answered. I think he said: "Thank you, I'll think about it." The stakes are going up, how it will end, we will all see on April 21 during the next President's Address to the Federal Assembly. All accents will be placed there.
I dare to assume that Putin and Biden will play openly, without bluffing, having laid all the trump cards on the table. Intriguing is not his style. This is how he differs from other pseudo leaders who represent their countries on the world Olympus. Equals to Putin there can be counted on the fingers of one hand. And not because Putin is so talented, while others are not, but because he can independently make volitional decisions, regardless of external and internal factors. Because he is an autocrat in his country, and his counterparts are forced to maneuver between the interests of internal and external interests. Here are the advantages of autocracy over democracy. It doesn't matter at all
political
system in the country, it all depends on the caliber of the figure. There are only three people of equal caliber to Putin in this political freak show at the moment - the leader of the People's Republic of China, Comrade. Xi Jinping, Indian Prime Minister Narendra Modi and Turkish Sultan Recep Tayyip Erdogan. And I would put Erdogan first. In world history, the list of these people is, of course, longer. Among the closest ones who left are the former President of Venezuela Hugo Chavez, the former President of Kazakhstan Nursultan Nazarbayev (now we are reaping the negative consequences of his departure, with the dumping of Kazakhstan away from the Russian Federation), Cuban leader Fidel Castro, the first Prime Minister of Singapore Lee Kuan Yew. These people influenced on the course of history, qualitatively changing the vector of development of their own countries. They have already entered History. Putin, of course, is already one of them. Will Biden stay there soon we'll see. His predecessor Trump is already there, although he has not yet said his last word.
The kid said - the kid did!
But our beloved Donald Ibrahimovich, when he was President, was strapped in decision-making, which cannot be said about Putin. He thinks in categories: "The boy said - the boy did it!" This is the only criterion for assessing personality for him. So Zelensky, upon his accession to the throne, was given a kind of carte blanche. Putin tried to come to an agreement in a purely boyish way (as, in fact, he tried to come to an agreement with his predecessor Poroshenko, but he did not live up to the expectations of the GDP, after which direct communication between them ended). Zelensky, apparently, due to his inexperience and desire to please, made some promises to Putin that he could not fulfill. Putin has kept his promises. The deliveries of critical imports for Ukraine (diesel fuel, coal and electricity) were not stopped, although they could very well have been stopped. In response, as the former head of the President's Office Andriy Bogdan said: "Zelensky threw Putin!" (direct quote). Guys don't do that! I do not exclude that Putin, taking into account the complexity of the situation of our hero, with the change of the head of the Office to Andrei Yermak, tried to come to an agreement again, this time with the latter through his authorized representative Dmitry Kozak. The result of these agreements was the signing in 2019 of a new gas contract between Gazprom and Naftogaz on conditions that were initially unfavorable for Moscow. For those who are not in the know, I will say that Moscow undertook to pump gas through the Ukrainian pipe according to the European principle of "pump or pay" (while the "take or pay" principle used to apply, when the Transiter covered all the risks of the Supplier, paying for the contracted pumping volume). Now the parties have changed places - according to the new contract, Ukraine will receive its money for transit, even if gas does not go through the pipe. Under the terms of the contract, this is at least $ 7,2 billion over 5 years. Actually, this is what happened in 2020, when Gazprom pumped 58 billion cubic meters of gas through the Ukrainian GTS, and paid for the 65 billion prescribed under the contract (covid and warm winter reduced the EU's need for blue fuel, but this is not due to Ukraine's revenues. reflected, but if Gazprom pumped over 65 billion cubic meters, then for each extra cubic meter it would pay 20% more). Moscow assumed such terms of the contract. How did Kiev repay her? The ban on the Russian language and pro-Russian parties, another aggravation in the Donbass and anti-Russian hysteria. Is it any surprise that Putin stopped picking up the phone? Zelensky was not a kid! Said but didn't.
In this sense, Putin noted the Turkish sultan. All their tacit agreements have been fulfilled. You can deal with Erdogan. Therefore, one should not be surprised at the development of cooperation between our countries. Although it may seem to someone from the outside that Russia is acting to the detriment of its national interests. This is not so - Russia is interested in strengthening Turkey's influence. This is a serious counterbalance to the United States in the Black Sea-Mediterranean region. Recep Erdogan is an independent player who pursues an independent policy. You can deal with him, because he is responsible for his words, and the key to his safe will lie in the Kremlin (the Akkuyu NPP and the Turkish Stream will tie him to Moscow for a long time, the S-400 there).
Whether it is possible to deal with Biden, we will see in the near future, but I would not cherish any special hopes. Biden is American. And as practice shows, the Americans (and in general the Anglo-Saxons) have no word! They have proven this with their entire history. They are guided by the principle: "Politics is the continuation of war by other means. There are no convictions in politics, there are circumstances. To betray in time means not to betray, but to foresee! " Trump in this sense is a pleasant exception, apparently because he has German roots. His grandfather Frederick Trump, nee Friedrich Trump, was born in 1869 in the village of Kallstadt, in the south of Rhineland-Palatinate (now the territory of Germany). And it was always easier for us to come to an agreement with the Germans.
On this I have to put an end to what Biden is striving for, how the new Istanbul channel and Turkey's withdrawal from the Mantreau Convention threaten us, and why Putin is not afraid of a Ukrainian offensive in Donbass, you will learn from the following text. Not saying goodbye.