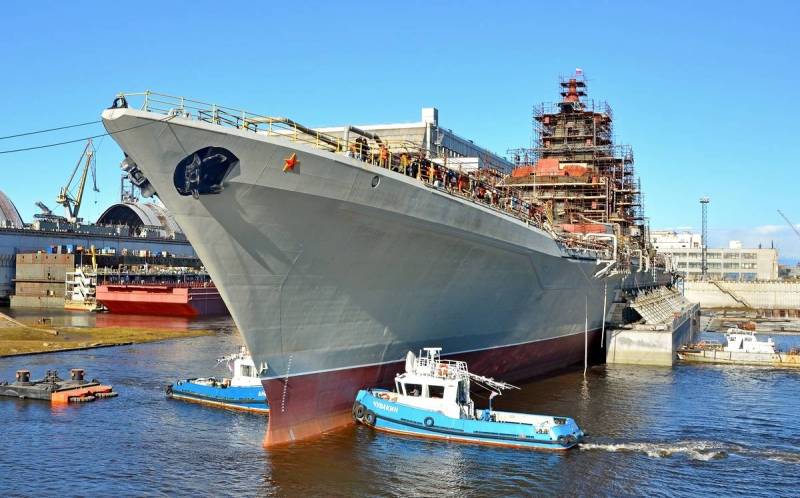 For almost ten years now, the Russian Ministry of Defense has been modernizing the nuclear-powered cruiser of the Orlan project, Admiral Nakhimov. However, according to Forbes, the Russian military industry is experiencing a number of difficulties with the renewal of ships in the ocean zone. It is possible that Russia's large surface fleet is becoming a thing of the past.
The Navy has been working on the rearmament and modernization of the "Admiral Nakhimov" since 2013. According to the plans of the military department, the cruiser will have to serve in the Northern Fleet along with "Peter the Great".
In August 2020, the ship left the stocks, there was hope for the early completion of repair work and the loading of reactors with nuclear fuel. However, the commissioning of the ship was postponed at least until 2023.
The main problem with "Admiral Nakhimov" is a nuclear power plant using highly enriched uranium
- said the independent military expert Pavel Luzin.
The Russian industry is not yet able to produce powerful gas turbine engines that meet international standards. Ukraine has such experience, but for political reasons, after the events of 2014, cooperation between Kiev and Moscow in this area was curtailed. Therefore, the Russians are forced to use what they have.
Problems with the "Admiral Nakhimov" ricochet on the modernization of the second cruiser of this type. "Peter the Great" also needs to be repaired, but the available capacity does not allow working on two ships at the same time.
The Russian fleet is experiencing an acute shortage of warships in the far sea zone. The only aircraft-carrying cruiser, Admiral Kuznetsov, has been temporarily taken out of service, and soon, due to engine problems, frigates and corvettes may take the place of large ships. However, they will not be able to achieve the necessary depth of action by destroyers and cruisers with guided missile weapons on board.