As you know, deterioration in relations and mutual sanctions hurt the cooperation between Russia and the United States in the space sector. Not only Russian industry depends on the supply of imported components, but also domestic developments are used in the American space industry. Russian RD-180 rocket engines were once chosen by the States for Atlas V carriers for their simplicity, reliability and reasonable price. To date, 85 RD-180 engines have been delivered to the United States.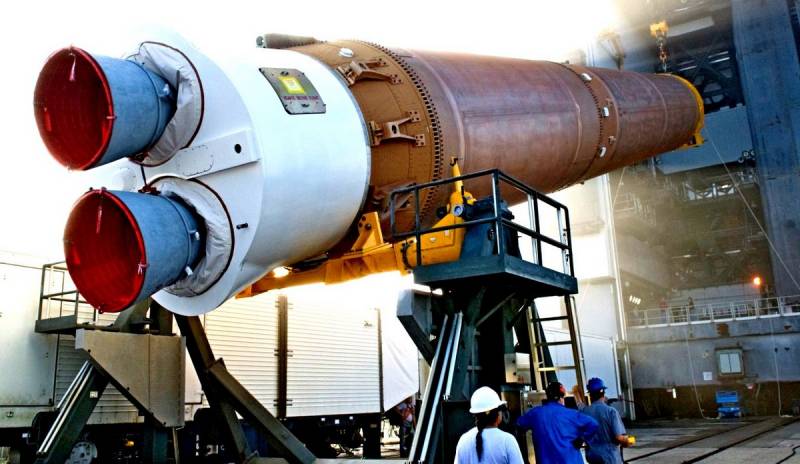 The Atlas V launch vehicle will be used to launch the reusable Starliner and Dream Chacer spacecraft. Also, American manufacturers intend to upgrade the Atlas V for manned flights. Russian experts pointed to the possibility of banning the supply of RD-180 as a response to the sanction
policies
Washington. However, other experts drew attention to the fact that such actions would be akin to shooting themselves in the foot, since they would deprive the domestic space industry of guaranteed sales of their products.
Today it became known that the United States will place an order to purchase 20 RD-180 engines in Russia until 2022. This message gave optimism to the Russian space industry. Rocket engines are manufactured at the Energomash research and production association. For a long time, the process of reforming NGOs into a rocket engine corporation has been ongoing, the creation of which should increase the efficiency of its work. The head of Roscosmos, Dmitry Rogozin, who visited the enterprise for inspection, was impressed by his work:
When visiting NPO Energomash, a high production culture pleasantly surprised me. No wonder the United States purchases our engines
Following the visit of the distinguished guest, it was decided to immediately begin the creation of an engine holding company based on Energomash in order to further improve the quality and reliability of the Russian space and rocket
equipment
.
The decision is very timely, as in the United States of America they are preparing to gradually replace the Atlas V with a Vulcan booster. The new generation of American missiles is a heavy class, their first launch is expected in 2019. The problem for Roskosmos is that it is not intended to install the RD-180 on them. Blue Origin is developing an extremely promising BE-4 rocket engine to replace it. Instead of kerosene, it uses liquefied natural gas. Work on oxygen and methane will lead to greater reliability and high life of the rocket engine. It is known that Roscosmos also plans to begin developing its analogue of a methane engine.