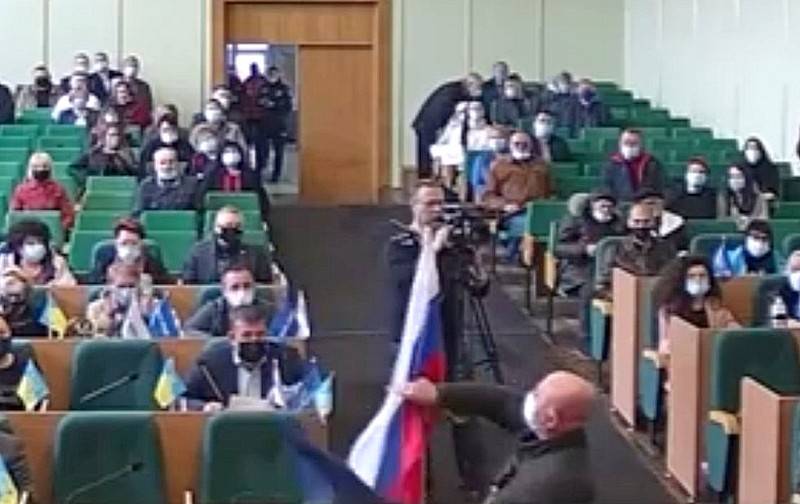 Despite Kiev's anti-Russian propaganda, Russia's state symbols evoke positive emotions even among government officials in a number of Ukrainian cities. In particular, members of the Slavyansk City Council expressed a similar reaction when the Russian flag appeared in the meeting hall.
Known in Slavyansk
political
activist Vasily Khomenko brought the Russian flag into the premises where the work of the city's legislative assembly took place. At the same time, many present in the hall applauded at the sight of the tricolor. However, Khomenko also raised the Ukrainian flag at some distance. Later, the state symbol of Russia was carried out of the hall by the police.
It is noteworthy that exactly seven years ago, militia fighters in eastern Ukraine took control of Slavyansk. However, in July 2014, the city was abandoned, and since then it has been under the rule of Kiev. Nevertheless, as past events show, pro-Russian sentiments are strong in Slavyansk.
Earlier in the program "Cross-examination", General of the Armed Forces of Ukraine Sergey Krivonos
expressed
his opinion about which cities the Russian army will capture in the event of an invasion of the territory of Ukraine. According to Krivonos, these will be strategically important cities of the country: Odessa, Nikolaev, Kharkov, Zaporozhye, Mariupol, Melitopol. It is also possible to occupy the Chernihiv, Sumy and Kharkiv regions.