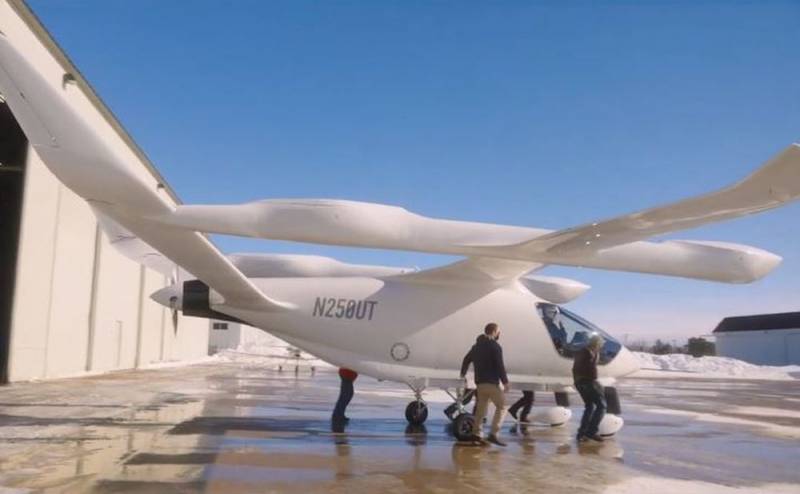 A large American company United Parcel Service, Inc. (UPS), which specializes in express delivery and logistics, has unveiled its latest electric aircraft developed by US startup Beta Technologies. About this innovative
Technology
, which does not need airfields, according to the report of the American TV channel ABC News on April 9, 2021, which called it - "the future of cargo transportation."
It is noted that the vehicle can make vertical takeoffs directly from storage sites and land at distribution centers. This will allow customers to receive their orders even faster.
In the storyline, UPS wants to connect agricultural settlements and small towns, touching on areas that typically take longer to ship. The company plans to start operating these aircraft from 2024.
The ultra-quiet aircraft, which outwardly has the features of not only an airplane, but also a helicopter and a quadcopter, develops a speed of up to 274 km / h. At the same time, the impact on the environment is minimal. This development is going to use not only UPS, but also other companies, as well as the Pentagon.
When you start to do without manual work, the efficiency of the whole process increases.
- clarified the director of IT and technical issues of UPS Juan Perez.
These aircraft are incredibly effective over short distances, are inexpensive and, in terms of the army, can easily replace expensive ground transportation.
- added the head and founder of Beta Technologies Kyle Clark.
The shown device is capable of flying about 400 km, the battery is charged in 50 minutes. Beta Technologies claims that over the next few years, their development will become fully autonomous (unmanned and robotic). The main task of the company is the transportation of people, therefore, a certain experience is gained on the parcels.
We have already flown millions of hours and have commissioned thousands of devices. Our goal is that when we get to passenger traffic and put six people on our plane, it would be as convenient for them to make local regional flights as possible.
- summed up Kyle Clark.