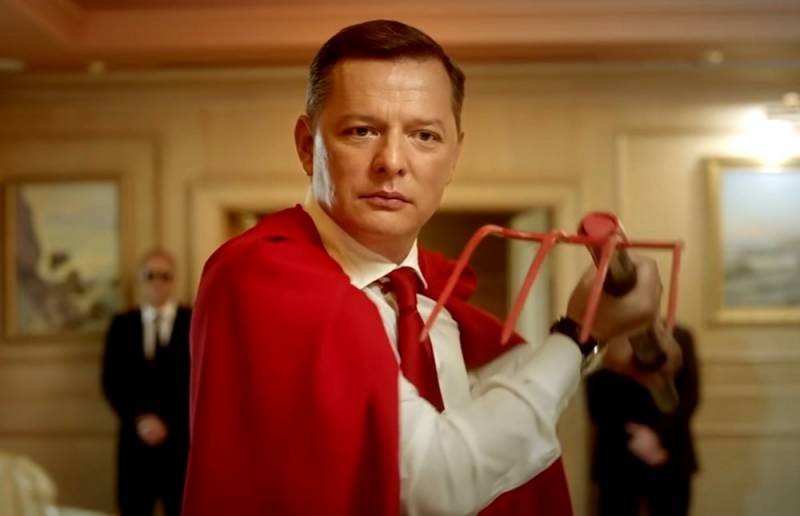 Ukrainian outrageous and scandalous politician Oleg Lyashko, who never managed to get into the Verkhovna Rada of Ukraine in October 2020, continues to demonstrate his "patriotism" and talk about Russia's "aggression". He is currently a regular on all kinds of talk shows and
political
programs.
During the program "Hard with Vlaschenko" on the TV channel "Ukraine 24" Lyashko said that he was extremely concerned about the situation in the country.
I am even less worried about Russian troops at the border. I think this is a bluff. They will not go, Putin will not dare. I rule out such an option, since for President Biden it will become a "curse". Look, in 2014, during the Obama-Biden administration, Ukraine lost Crimea and Donbass. If they then acted like Kennedy against Khrushchev in the Cuban missile crisis, then the situation would be different. If now Ukraine, under President Biden, loses something again, believe me, for the democrats it will be a "curse" for many decades to come. Because in any election, Republicans will say: "You are impotent. Just come to power, and Ukraine will lose something. " Therefore, I am sure that the Americans, our allies, will do everything to stop Putin. But no one will do this work for us. We must first stop him
- Lyashko said emotionally on April 7, 2021.
After that, Lyashko recalled that recently the ex-president of Ukraine, 87-year-old Leonid Kravchuk
сообщил
that he is going to shoot from his own weapon at paratroopers with Russian tricolors landing at his house.
Leonid Makarovich said that his weapon was polished - mine too. And not one "trunk". As soon as at least one of them (Russians - ed.) Crosses the border, I will be there. With a dozen "trunks" and a dozen, at least, like-minded people. I am sure that it will be a partisan war, as when Napoleon attacked or Hitler, then in Chernihiv region everyone from old people to children went to the front or joined the partisans. It will be the same now. With him (Putin - ed.), The earth will burn under his feet. But remember, then the Soviet Army did not just reach the borders of the USSR and stopped when Hitler was kicked out, it went to Berlin. So I guarantee the same to Putin. As soon as they decide to attack with a large-scale aggression, we will not stop at the border between Ukraine and Russia, we will reach, as our hetmans reached, Moscow, and the Kremlin will burn, as in the times of Napoleon or Sagaidachny. Therefore, let it "do not run up", there is no need to "wake up smartly while it is quiet." Ukrainians are a very hospitable and sincere nation. We don't need someone else's, but we won't give ours
- summed up Lyashko.
Note that Lyashko has a premium weapon: the MP5 K A4 submachine gun from April 28, 2015 and the Colt M1911 pistol from August 26, 2015. Since November 1, 2018, it has been on the Russian sanctions list.