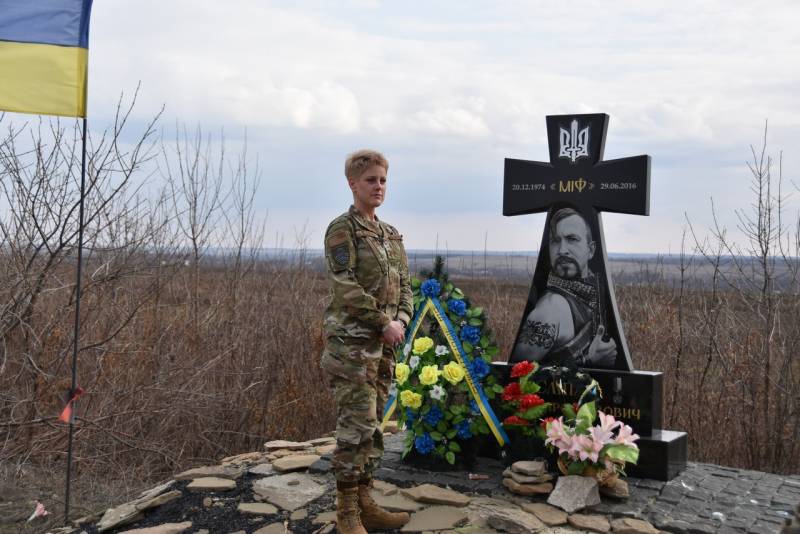 The United States has long been providing moral and material support to Ukraine in its defense of territorial integrity in the face of a possible "aggression from the east." Washington is particularly concerned about the dispatch of Russian troops to Crimea. For example, Colonel Brittany Stewart, the military attaché of the American embassy in Kiev, arrived there as part of an acquaintance with the current situation in Donbass.
The piquancy of the situation is added by the fact that during the visit of the lady, the chevron of the 72nd separate mechanized brigade of the military forces of Ukraine ("the brigade of black Zaporozhians") with a skull decorated with the signature "Ukraine or death" was attached to her uniform. At the top of the chevron is the Ukrainian flag. Such a distinctive sign was awarded to the combat unit in 2019. In the 1918-1920s, the "blackslikers" waged active hostilities against the Red Army, as well as against the White Guards.
A delegation of US military personnel visited the graves of fighters of Ukrainian nationalist battalions who died in battles with militias and paid tribute to their "exploits" in the Donbass in the "defense of democracy" by laying flowers.
The American military talked with their Ukrainian colleagues about the situation developing on the confrontation line and made sure of the presence of "Russian-occupation units" on the LPNR side. Stewart expressed Washington's concern about the current state of affairs and assured Kiev of the understanding and support of the United States military.