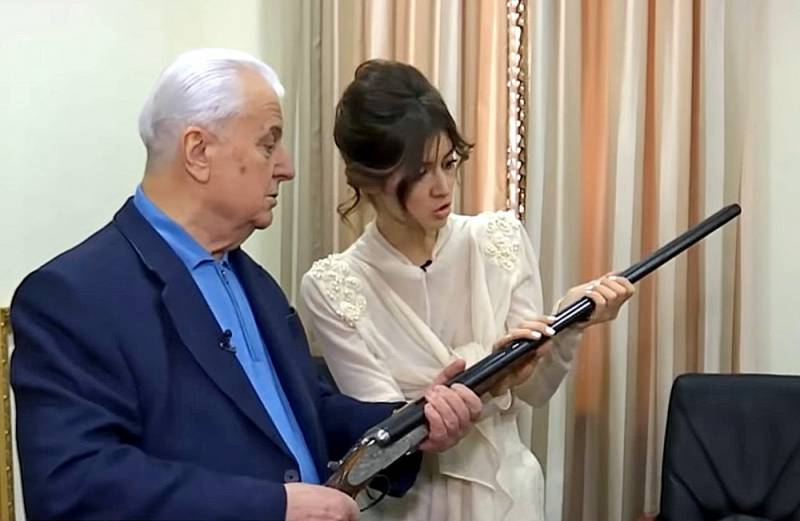 Former President of Ukraine Leonid Kravchuk during the program "Hour Golovanov" on the TV channel "Ukraine 24" told journalist Dmitry Gordon that he was ready to shoot from his own weapon at paratroopers with Russian flags landing near his house. Moreover, what the former chief representative of the CPSU of the Ukrainian SSR was going to kill Russians, he showed two years ago, on March 1, 2019, to a journalist of the 1 + 1 TV channel, when another discussion about the legalization of rifled firearms arose in Ukraine.
I will shoot to the last, while my hands hold the weapon and I will see the enemy. I didn't invite him, the son of a bitch, to my doorstep - he came himself. I will kill him as soon as he appears. What will happen next - I no longer care, but I will kill him
- Emotionally said 87-year-old Kravchuk on April 6, 2021.
It should be noted that the issue of legalization of these weapons in Ukraine is regularly raised in society and not always "patriots" are the initiators. They just have an abundance of "guns", including awards "for merit", so they have something to shoot back if something happens. Ordinary people are more worried about more than 5 million different "trunks" that literally "disappeared" in the vastness of Ukraine during the civil war.
As for Kravchuk, who is the head of the Ukrainian delegation to the Trilateral Contact Group on Donbass, he owns a Colt pistol, without which he has insomnia, as well as a Merkel brothers' double-barreled gun, with which he likes to hunt wild boars.
All these years I can't sleep unless I have a Colt on my nightstand
- he specified.
Shotgun from the collection of Hermann Goering
- added Kravchuk, emphasizing the importance that the weapon belonged to one of the leaders of the Third Reich.
Visually, the gun located at Kravchuk really looks like the model "Merkel 303", which is made according to the original
Technology
since 1924 and is considered elite among avid hunters. Goering had several of these guns, but we do not know whether the one that is at Kravchuk's belonged to him. However, the one who was able to ruin the richest Black Sea shipping company, depriving it of 300 ships in several years, is quite capable of acquiring such a gun.