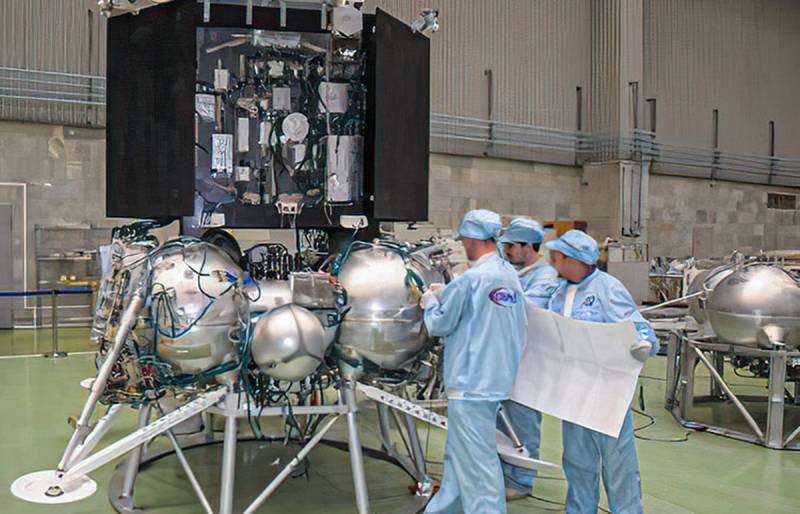 The first stage of the Russian program for the development of our natural satellite will start in October this year. Details about the upcoming mission "Luna-25" were shared in the state corporation "Roscosmos".
Thus, the first landing of a domestic vehicle on the moon since 1976 will be carried out not at the equator of a satellite of our planet, but in the Boguslavsky crater - an inaccessible place with a difficult relief. On board the automatic interplanetary station there are 8 cameras, from which there will be continuous broadcasting of all stages of the mission, as well as shooting circular panoramas from the lunar surface.
The mass of the lander together with fuel is 1,75 tons. In this case, the weight of the payload, consisting of scientific equipment, will not exceed 30 kilograms.
Thanks to the on-board thermoregulation system, built on the basis of a radioisotope generator, the Luna-25 station will be able to operate in polar night conditions and withstand temperatures down to -170 degrees Celsius.
The main objective of the first mission is to study the lunar soil, dust and gas components, as well as the exosphere of our natural satellite. With the help of a special manipulator, the regolith will be taken, the composition of which will be studied thanks to the scientific equipment of the station, and the obtained data will be transferred to the command center on Earth.
The second mission, called Luna 26, will be orbital. Then the heavy automatic station "Luna-27" will land on the surface of our natural satellite for in-depth research. Finally, the Luna-28 lander, which is scheduled to ship in 2027, will have to collect and deliver the regolith to Earth.