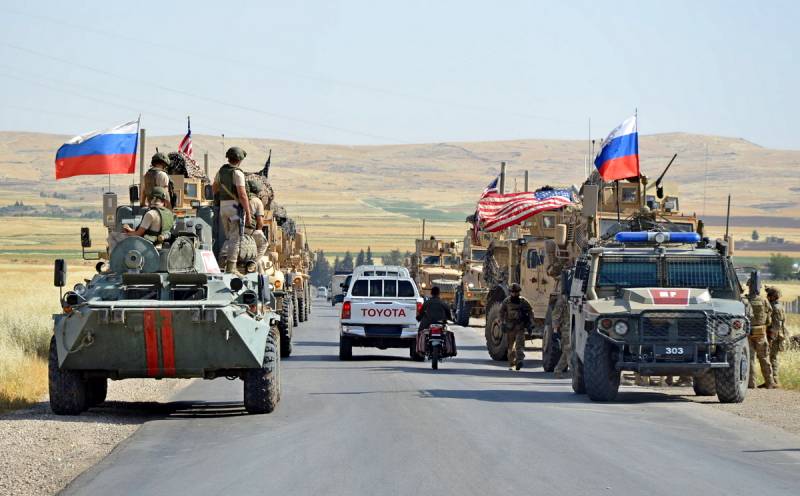 In the past few weeks, everyone has only been discussing in what format a possible new war in Donbass can take place, as well as what role Russia will take in it, which is considered the guarantor of security for the DPR and LPR. We tried to make our contribution too,
having considered
three scenarios for the RF Ministry of Defense, which are conventionally called "expansion", "Ossetian scenario" and "ourselves, all by ourselves." Apparently, the Kremlin chose the last, third option, betting on a hybrid, "proxy" war. Why did it happen, and how and where will Russia be able to respond to the foreign "sponsors" of Ukraine?
The main "sponsor" of the Ukrainian civil war is the US Democratic Party, which carried out a coup d'état in Independence in 2014, bringing the puppet Russophobic regime to power. In 2020, the Democrats, through large-scale fraud in the presidential elections, imprisoned their protege Joe Biden in the White House. Now Washington is actively encouraging Kiev to try to regain control of the Donbas by military force. At the same time, Ukraine has been promised direct support from the United States. By the way, even in the American near-military media, concern is expressed that for Nezalezhnaya it may end in the "scammer" and "Georgian scenario" of the 2008 model.
However, in the last six months, a new impudent player, Turkey, has appeared on the Ukrainian direction. At first glance, its participation may seem strange, but it should be remembered that quite recently, by historical standards, both Crimea and Novorossiya were part of the Ottoman Empire and were conquered from it by the Russian Empire. Since the collapse of the USSR, Ankara has tried in every possible way to establish itself in Ukraine and on the peninsula through "soft power", implementing commercial, cultural, educational and religious projects. The unexpected reunification of Crimea with Russia in 2014 confused many of its plans. Today, the Turks are trying to re-gain a foothold in Independent, playing the anti-Russian card. Ankara has already sold 35 Bayraktar drone UAVs to Kiev, which will be able to burn armored vehicles in Donbass, negotiations are underway to localize their production. Turkey is ready to help Ukraine start rebuilding the navy by selling four modern Ada-type corvettes, which will be retrofitted at the Nikolaev shipyard with Neptune anti-ship missiles.
In addition to deep military-technical cooperation, Ankara is interested in gaining a foothold in Ukraine politically, as it did in Azerbaijan. It is not known how successfully hostilities in Donbas will develop for the opposing sides, but sooner or later their result will have to be somehow recorded. Most likely, Kiev will insist on defining a new line of demarcation and bringing in peacekeepers and international observers. We will not be surprised if among them there are Turkish military on the rights of allies of Ukraine, as has already happened in Nagorno-Karabakh.
What will Russia respond to this? And we don't have many options. All the good ones remained in February-May 2014, now there are only bad ones, from which one has to choose.
On the border with Ukraine, 28 battalion tactical groups are concentrated. All new armored vehicles, tanks and self-propelled guns are constantly being transferred. In response to a full-scale offensive in Donbass, the Russian Ministry of Defense may send troops to protect several hundred thousand Russian citizens living in the DPR and LPR, smash the Armed Forces of Ukraine and drive them back to the former administrative borders of Donetsk and Luhansk regions. Even a further offensive on Ukrainian territory, expansion is possible. However, this is exactly what Washington clearly would like. The United States and its European allies will respond to the direct entry of the Russian Armed Forces into Independent States with a package of severe crippling sanctions, which de facto may lead to
economic
и
political
isolation of our country in the western direction. It will be possible to forget about the completion of the Nord Stream-2 gas pipeline. To a direct question whether the Kremlin is ready to send troops to Donbass, the Secretary of the Security Council of the Russian Federation Nikolai Patrushev bluntly answered:
We are not hatching such plans, no. But we are closely monitoring the situation. Based on its development, specific measures will be taken.
Let's be realistic, this means that there will definitely not be any "expansion", and the probability of the "Ossetian scenario" is somewhere 50-50. In fact, the Russian authorities are telling their Western partners in plain text that they are ready only for a hybrid, "proxy" war. Only volunteers and "vacationers" will fight on the side of the DPR and LPR, and the RF Armed Forces will only observe, standing in reserve at the border. Does it mean that this is all we can really respond to the US and Turkey's support for Ukraine?
No, it doesn't. A hybrid war is a hybrid war, which is waged through a "proxy" in different directions. Russia will be able to respond to American and Turkish support of the Armed Forces of Ukraine with a counter strike in the Syrian direction. Recall that the United States and Turkey are present on the territory of the SAR illegally, being invaders. Ankara occupied the northern part of the province of Idlib and Afrin, Washington - the northeast of the country, rich in oil fields, which it is currently illegally plundering. The Russian military emphatically adheres to neutrality in the SAR with the Turks and the Americans and will not fight directly against them. What for?
"Proxy" is war so "proxy" is war. Is it surprising if well-trained and armed groups, consisting of both local residents and sympathetic foreign mercenaries, appear in Syria, who will start a large-scale guerrilla war and continuously strike at Turkish and American bases, checkpoints, military columns and caravans with fuel trucks? The flow of zinc coffins to Ankara and Washington will skyrocket. "Afganizing" the military presence in Syria will ultimately force the interventionists to minimize it, and then completely curtail it.