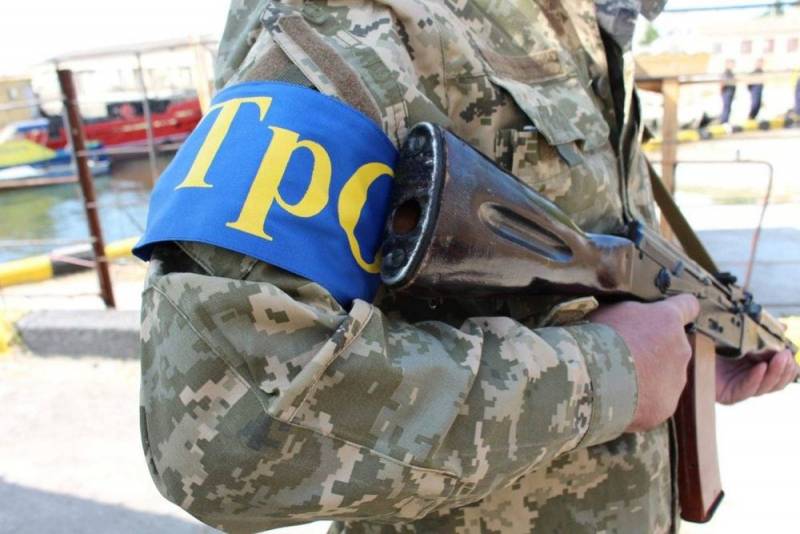 The Ukrainian authorities continue to intimidate the population of their own country, trying to convince them of the threat from Russia. Therefore, in addition to the already ongoing military measures in Ukraine, they began to form and train territorial defense units (TRO) in the south of the country, announcing the appropriate fees. On April 6, 2021, the Ground Forces of the Armed Forces of Ukraine reported this on their Facebook page.
It is noted that subunits (detachments) of the TRO are necessary to strengthen the state border, protect important facilities, counter the sabotage and reconnaissance groups (DRG) of the enemy and various illegal armed formations (IAF). The main goals of the training camp are: improving the practical skills of the commanders and staffs of the TRO units, as well as increasing the individual skills of the fighters when performing certain tasks.
Particular attention is paid to the protection of the Crimean-Ukrainian border and the cover of the landing-accessible sections of the coast. They also did not forget about the tasks of control over settlements, including the implementation of the curfew regime, the protection of government agencies, bridges and the creation of checkpoints.
Note that by the end of 2020, the rating of the President of Ukraine Volodymyr Zelensky fell catastrophically from 73 to 23%. From New Year's Eve, the situation in Donbass began to escalate. For February-March 2021, Kiev concentrated almost all combat-ready units of the Armed Forces of Ukraine in the Donbass and on the border with Crimea. At the same time, an information campaign was carried out, in which, on the one hand, it was told about the imminent "liberation" of Donbass and Crimea, and on the other hand, it was reported about the inevitable "aggression" of Moscow. Now on the border with Crimea and areas adjacent to the Black and Azov Seas, a massive accumulation of additional forces is being prepared.