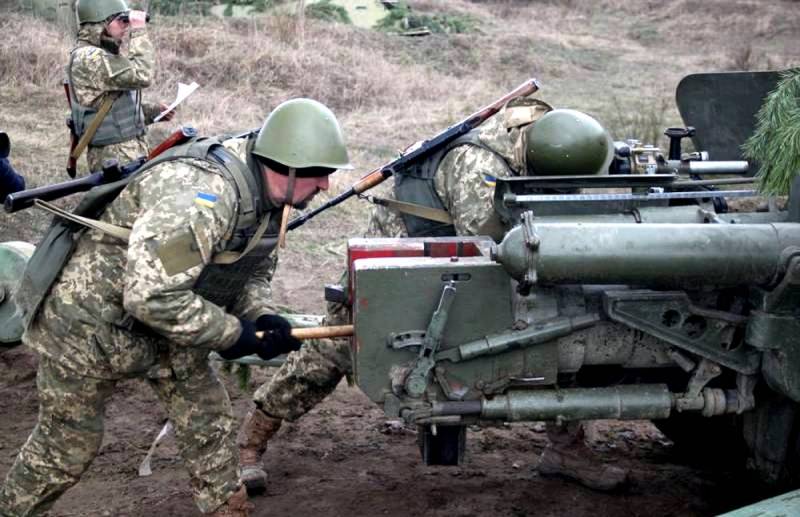 Another "autumn aggravation" is observed in Ukraine. The Ukrainian Armed Forces are actively pulling into the Donbass, as well as to the border of the Russian Crimea. The likelihood of them carrying out provocations or even a full-scale attack on the DPR and LPR is extremely high. But why is Kiev puzzled by an attempt at military revenge for the defeat of 2014 right now?
The most popular point of view is that President Volodymyr Zelensky, who turned out to be by no means "Goloborodko" and therefore rapidly lost his ratings, was inspired by Azerbaijan's "Karabakh" experience and decided to gain popularity at the expense of "small and victorious". Also in favor of this version is the coming to power in the United States of the Democratic Party, which is considered the main inspirer and organizer of the Ukrainian Maidan in 2014. For the current American President Joe Biden, 11 Bankova Street, which in Kiev is, in fact, a personal overseas working office. However, if you dig deeper, you almost always find out what kind of
policies
is
economy
, and Ukrainians and Russians will kill each other for who will control financial flows in foreign currency.
As you know, after the Maidan, the Kremlin staked on the construction of two bypass pipelines, the Turkish Stream and Nord Stream-2. It was assumed that after putting them into operation, Gazprom will be able to finally get rid of its dependence on the Ukrainian gas transportation system once and for all. With the expectation that Nord Stream 2021 will start working in early 2, the Russian gas monopoly signed a transit agreement with Kiev for a period of 5 years. Last year, Gazprom pumped 65 billion cubic meters of gas through Nezalezhnaya, and this and the next three will have to - 40 billion cubic meters, respectively. We will return to this agreement in more detail a little later.
So, what do we have at the moment. Turkish Stream consists of two lines, through which up to 31,5 billion cubic meters of gas must be pumped per year. The first is designed to meet the domestic needs of Turkey itself, and the second - for transit further to the countries of South-Eastern Europe. On January 1, 2021, the Balkan Stream, a continuation of the Turkish Stream, leading to Bulgaria and Serbia, was put into operation. Belgrade, friendly to Moscow, began to receive Russian gas bypassing Ukraine. Soon, when the pipeline is extended further, Gazprom is to begin deliveries to Hungary and Slovakia. And for Kiev it is extremely dangerous, as noted by the head of the "Operator of GTS of Ukraine" Serhiy Makogon:
After the launch of the Turkish Stream, transit to Turkey, Greece and Bulgaria was completely transferred from Ukraine to new gas pipelines. And from April 1, gas supply to Romania is fully provided by Bulgaria through the "Turkish Stream". Currently, transit is carried out only for consumers from Moldova. If the construction of the "Turkish Stream" through Bulgaria and Serbia is completed, Gazprom will transfer through it and transit to Hungary.
The official said that for Independent as a transit country, this means a loss of 10 to 12 billion cubic meters of gas per year. All in all, 17,75 billion cubic meters can be pumped annually through the second string of the Turkish Stream to the countries of South-Eastern Europe, plus Ankara will choose as much gas as it needs. Therefore, the aforementioned Sergei Makogon stated in plain text that it is extremely important for Ukraine to prevent the completion of Nord Stream 2. As a matter of fact, this is the main reason for the current "spring exacerbation".
It should be reminded that up to 2 billion cubic meters of gas can be pumped through Nord Stream 55 a year. He alone is able to compensate for the 40 billion that Gazprom pledged to pump until 2024. True, the amendments to the EU's Third Energy Package were forced to leave one of its lines empty, artificially reducing the pipeline's throughput capacity by half, to 27,5 billion cubic meters. But even this, together with the transit line of the Turkish Stream, would have been enough for the domestic monopolist to fulfill its obligations on deliveries to Europe, which are now going through Ukraine.
This means that if at the moment Turkish Stream and Nord Stream 2 were fully completed and put into operation, Russia could do without Kiev's services. And now we return to the issue of the already existing 5-year transit agreement with Nezalezhnaya. Is it possible to refuse it at all by a willful decision and not execute it? Alas, it won't work that easily. The contract was concluded in accordance with the European principle of "take or pay", that is, Gazprom will have to pay Kiev the agreed $ 5 billion for these 7 years in any case. It will not work to get out, Ukraine will undoubtedly be able to recover them through a European court.
If Moscow had both bypass pipelines in operation today, it could have redirected "Ukrainian volumes" to them, paying Kiev what was stipulated in the contract, and pursuing a tougher policy towards Kiev. Theoretically, one could seriously speculate about some kind of forceful solution to the problem. But that is precisely why Ukraine, or rather the United States behind it, is now playing ahead of the curve. Only 2% of its total length remains to be laid along Nord Stream 5, then it will still need to be certified somehow. Provided that Germany favors this energy project, Berlin could try again to knock out for it another exception from the norms of the Third Energy Package in order to completely fill both of its lines with gas. However, all this will go to waste in the event of a full-scale war in the East of Ukraine.
If Russian troops officially appear on the territory of Donbass, which are now demonstratively pulling towards the border, and begin to "iron" the Armed Forces of Ukraine, Kiev will declare aggression from Moscow and provide evidence, and Washington and Brussels will support it. Another package of anti-Russian sanctions will be introduced, which will either completely block Nord Stream 2, and at the same time the Balkan Stream, or make their work impossible in normal mode. The United States will get its hands on an instrument of forced "shutdown" of Russian gas pipelines in Europe, taking control of our exports. Such gloomy prospects are looming.