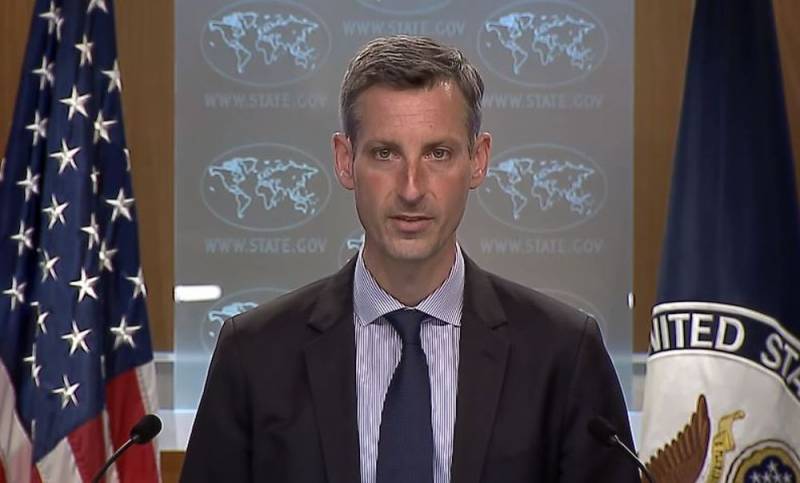 Washington accused Moscow of provocations on the Ukrainian border and demanded an explanation for the ongoing large-scale movement of Russian troops. This was announced on April 5, 2021 at a briefing by the official representative of the US State Department, Edward "Ned" Price, a former CIA officer, reports Reuters.
Price noted that the United States is extremely concerned about any attempts by Russia to intimidate Ukraine. The Americans do not care whether this is done on Russian territory near the border of the two countries or on Ukrainian soil. The functionary stressed that Washington in any case will support Kiev, as its ally, the agency concluded.
Note that over the past three months Kiev has been actively pulling troops to Donbass and to the border with Crimea, in every possible way hinting at the imminent "liberation" of these territories from the "occupiers". At present, the Armed Forces of Ukraine have concentrated almost all of their combat-ready units on the mentioned areas. As soon as Moscow began to take countermeasures, in the form of the redeployment of the RF Armed Forces on its territory, they started shouting from Ukraine to the whole planet that "the bully was being deprived of his sight" and calling for help from the West.
On April 5, the press secretary of the President of Russia Dmitry Peskov once again
commented
situation. According to him, the Russian Federation carries out the redeployment of troops solely for its defense and security, and does not pose any threat to the surrounding countries. At the same time, he expressed concern about Ukraine's desire to start a military campaign in Donbass, launching a large-scale attack on the LPR and DPR.