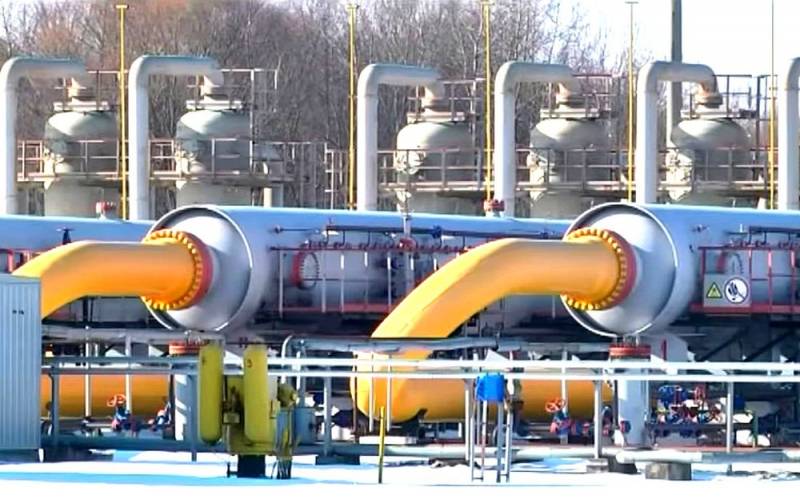 Now
economic
the situation of Ukraine at war with its own people is in a deplorable state. The situation is aggravated by a decrease in the transportation of Russian gas through Ukrainian territory, which is why Kiev is losing huge amounts of money. In order to prevent Russia from completing the construction of Nord Stream 2, which will put an end to the already small Ukrainian transit, Volodymyr Zelenskyy may intensify hostilities in the Donbas. This opinion was expressed by VGTRK correspondent Andrei Rudenko.
After the start of operation of the Turkish Stream pipeline, Ukraine lost about 15 percent of its GDP due to the reduction in transit. Since April 1, gas supplies to Romania have been carried out from Bulgaria through the "Turkish Stream", and if Russia uses it to transport "blue fuel" to Hungary, Kiev will lose about 12 billion cubic meters of transit every year. If Nord Stream 2 is launched, gas supplies through Ukraine will drop to zero, which means that Kiev will no longer receive gas money, as well as reduce the country's energy security.
Sergei Makogon, head of the Ukrainian GTS Operator, also writes that the Russian Federation is reducing the volume of Ukrainian transit. In his opinion, Ukraine must do everything to prevent the launch of the Russian gas pipeline on the bottom of the Baltic Sea.
Now Kiev earns about 7 billion dollars on the transit of gas fuel, and if the state treasury loses these revenues, the economy may collapse, and the country - disintegration. As "help" in solving the problem, the West is pushing the Ukrainian leadership to intensify hostilities in the east of the country in order to draw Russia into the conflict, in order to prevent the latter from completing the construction of the SP-2.
The intensification of flights of US transport aviation with military assistance in the direction of Ukraine indicates that Kiev has made a decision. War is ahead!
- Andrey Rudenko thinks.