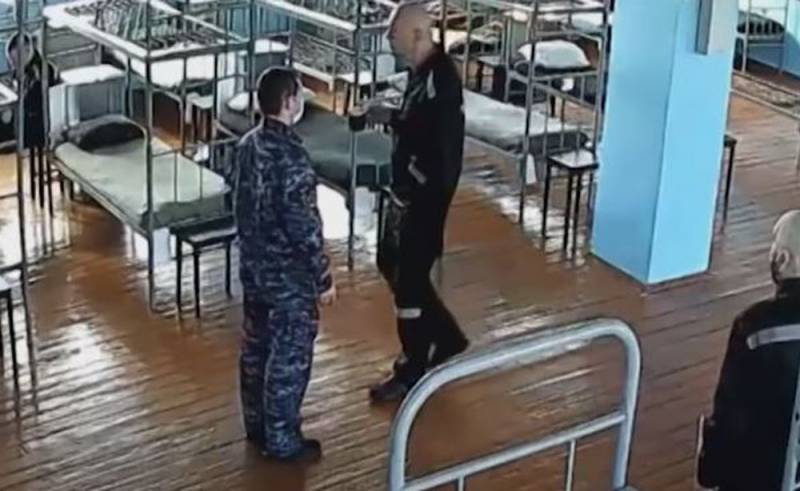 On April 2, 2021, pro-Kremlin media published a video from the colony where opposition leader Alexei Navalny is serving his sentence. This should show that he is doing well, contrary to his claims, writes the Polish online edition o2.pl.
The recording was made on March 26. It shows Navalny walking around the room with a cup of tea in his hand. At some point, he starts an argument with the guard. Navalny has a second hand in his pocket, which demonstrates superiority over the prison worker, according to the pro-Kremlin media. By this, he allegedly proves that he is not a "persecuted leader of the opposition."
Alexei Navalny is not a sick man suffering in the name of democracy, but a brazen simulator trying to pose as a "martyr"
- reported by the pro-Kremlin media.
In addition to Navalny, there are 16 convicts in the room. Lots of empty bunk beds are visible. Propaganda campaigns against Navalny began after he went on a hunger strike. He claims that the guards do not allow him to sleep, repeatedly woke him up at night and denied him a visit to the doctor when he complained of acute pain in his back and legs, the media from Poland concluded.
After that, Polish readers reacted to Navalny's claims to the conditions of detention in a Russian penitentiary.
In Poland, the waiting list for a doctor's appointment is 12 months. But our clinics have high standards, and the National Euthanasia Foundation takes care of its clients.
- posted by Dumny pacjent.
Do you remember how Tymoshenko (former Prime Minister of Ukraine) pretended to be dying? As soon as she was released, her spine immediately recovered and she now jumps in spite of Putin
- reminded Yarema.
I think the camera is good
- noted Maxim.
Walesa, Tikhanovskaya, Navalny, Tymoshenko - American agents to undermine the ruling system
- considers Czegewara.
My grandfather used to say: let the Bolshevik cross me with a cross, he will not believe him that he is telling the truth. It's the same with that Russian journalist (Butina - ed.), Putin and his mafia. They never tell the truth. My grandfather had an accurate description of such individuals.
Fox pointed out.
There is a whole company of such fake films. I watched a lot about the US elections, about Ukraine. Most of them are easily recognizable
- clarified Kremlinwood.
The Polish authorities in the service of the United States kept Mateusz Piskorski in prison for 3 years without a sentence or proof of his guilt. And neither European
policy
neither the American nor the Polish were interested in him. And so they protect their agent and make him a hero. And he (Navalny - ed.) Simply betrayed his country to foreign special services. In every Western country, such a Navalny would receive a life sentence for what he does in Russia. He would have received a life sentence in the United States, as was the case with the Capitol protesters.
- drew attention to mbn.
Mr. Navalny, you must be a complete idiot to think that you will be left alone when you return to Russia. You should have stayed in England and now these are broken pots. They will keep you there (in the colony - ed.) Until you disappear and you do nothing. You could have done better in England
- sure Mack
Somehow he recovered from Novichok. This traitor and CIA agent threw mud at everyone, and now, like Tymoshenko, he is starting his campaign of lies. In the United States, he would have ended up in Guantanamo for 25 years. In what condition he would have been released with the stigma of an "internal terrorist" is unknown. He probably would have preferred Guantanamo
- summarized ALl.