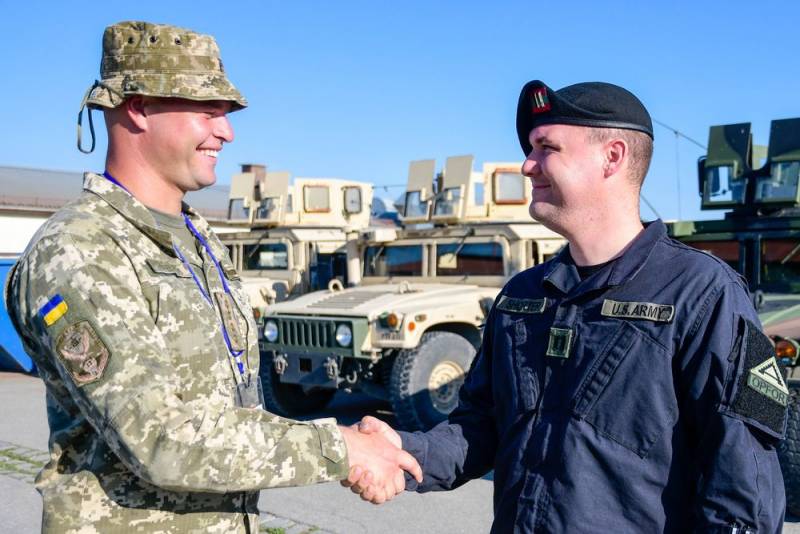 NATO Defender Europe 2021 maneuvers are needed to practice the scenario of a war with Russia. This was stated in an interview with the Ukrainian TV channel UKRLIFE.TV by the speaker of Kiev in the Trilateral Contact Group on the Peaceful Settlement of the Situation in Donbass, Freelance Advisor to the Head of the Office of the President of Ukraine on Strategic Communications in the Sphere of National Security and Defense, blogger and actor Alexey Arestovich, who was born in Georgia and has Belarusian and Polish roots.
3/4 of our territory is surrounded by Russian troops, and if we take into account Belarus, then 5/6
- he noted.
In his opinion, the current "pulling" of Russian troops to the Ukrainian border is an information campaign supported within Ukraine by "useful idiots" or people who are its elements. It is they who are allegedly talking about a possible full-scale war in the Donbass.
I do not share this point of view (about the war in Donbass - ed.) And can explain. Exercise Defender Europe 2021 begins - translated as "defend Europe". What is their meaning? In the waters from the Baltic to the Black Seas, a war with Russia is being worked out - let's put it bluntly. The main focus is the Balkans, Crimea and everything to the north, i.e. Ukraine. These are open sources and no one is hiding anything. The active phase is May-June, and now there is preparation, deployment
- he specified.
Arestovich explained that preparation for the exercise lasts up to six months. Therefore, the redeployment of the troops of the Western countries and the Armed Forces of the Russian Federation has now coincided, because in September the joint Russian-Belarusian exercises "West-2021" are to take place.
In fact, NATO and Russian exercises collided. Therefore, the Russians, experiencing this as a threat, are reacting to it with an additional transfer of troops in order to stop the possible deployment of NATO forces. That is, they are doing what they would have done "during the war" if the West wanted to attack them.
- he added.
Arestovich stressed that the Russians have a well-imposed direction of military affairs as the safety of operations - hiding and misinforming the enemy about the real state of affairs, including the transfer of troops. Therefore, when the Russian media show columns
equipment
driving along the Crimean bridge during the day, this can be viewed as an element of intimidation and pressure on the higher military
political
leadership of Ukraine and European countries.