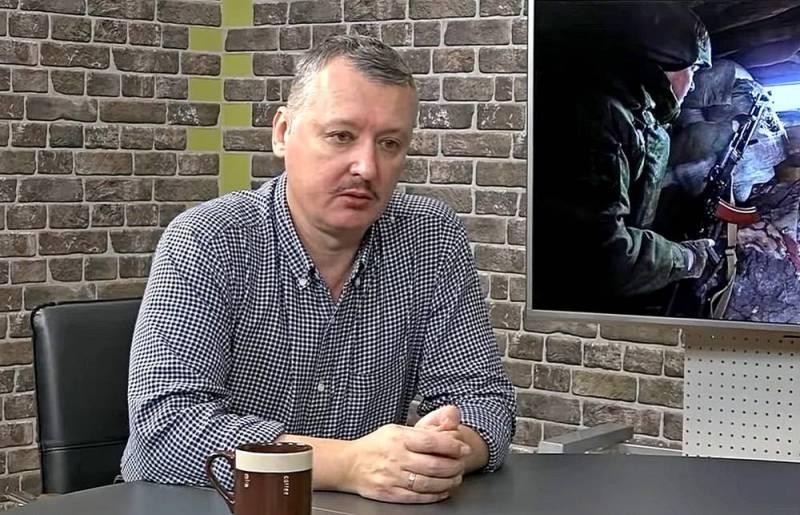 Former Minister of Defense of the DPR Igor Strelkov (Girkin) continues to excite the Russian public with the "offensive of the Armed Forces of Ukraine in Donbass." This time, he predicted a possible development of events in an article for an online publication
Political News Agency
(ALP).
According to the author, "the Kremlin betrayed Donbass" 7 years ago and now the wording looms before him: "you cannot surrender to fight". But the leadership of the Russian Federation will still have to decide where to put the comma in this puzzle.
According to him, Kiev has concentrated about 70 thousand "bayonets" in the Donbas, about 100 thousand more are involved in supporting the military operation. In addition, according to the Ukrainian mobilization plans, it is envisaged to "put under arms" 1 million people. It will hardly be possible to accomplish this, but the figure of 200-300 thousand looks realistic. As for weapons, the Armed Forces of Ukraine have concentrated in the region about 2 thousand tanks, infantry fighting vehicles, armored personnel carriers and other types of armored vehicles, 500 pieces of artillery, 250 MLRS, 40-50 aircraft and helicopters.
At the same time, the republics of Donbass now have a total of about 30 thousand servicemen in the ranks. condition
equipment
all 10 brigades - depressing. A third of the listed number of tanks are "dead", and the same number are in need of repair. At present, the front of 250 km is held on a chain of fortified posts with "garrisons" of 4-6 people.
Strelkov believes that the Armed Forces of Ukraine can launch a large-scale offensive against the positions of the DPR and LPR in the near future, since they have conducted appropriate training for the transition to active hostilities. At the same time, he is sure that the NM units of the Donbass republics cannot effectively resist the Armed Forces of Ukraine and their defense will be broken through quickly enough.
I predict front breakouts in the first 1-2 hours after the start of the APU offensive
- wrote Strelkov, adding that in 2-3 days the forces of the republics of Donbass will be defeated, and in 7 days the Armed Forces of Ukraine will reach the state border of the Russian Federation.
He did not rule out that Moscow will have to openly intercede for the LPR and DPR by sending a regular army to the Donbass. But this will lead to serious problems with the West and may contribute to a crisis in Russia itself. But if Russia does not enter the conflict and Kiev regains control over Luhansk and Donetsk, then Crimea may be next in line. At the same time, a stream of angry refugees from Donbass will pour into Russia. Why the future "embittered refugees" are not in the trenches, the forecaster did not elaborate.