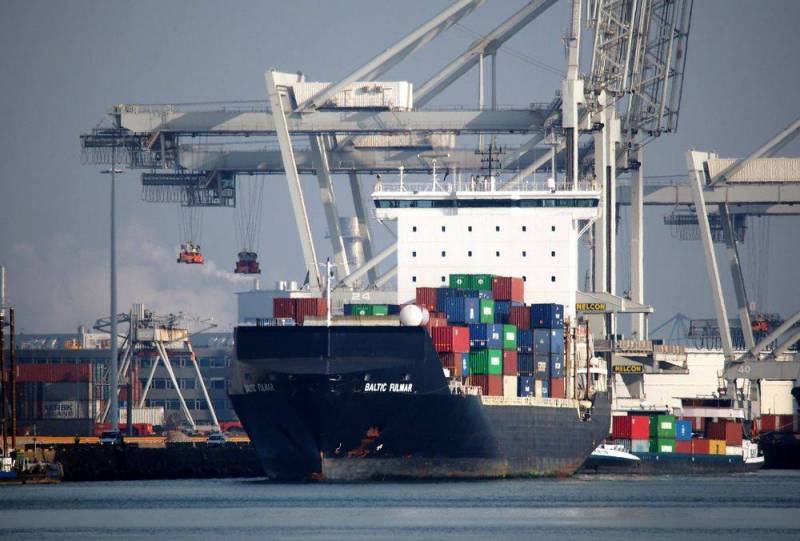 Following oil products, Belarus started thinking about transferring its potash fertilizers to Russian ports, this time not theoretically, but substantively. Under this case, Moscow and Minsk are negotiating the construction of a new terminal for bulk cargo in the Leningrad Region. From such
News
in Klaipeda they grabbed their heads, and the Lithuanian business, tied to the Belarusian transit, even threatened Russia with a naval blockade of the Baltic straits by the NATO fleet.
To date, Belarus has already reoriented to Ust-Luga almost half of the export volumes of its oil products (gasoline, oil and fuel oil). The agreement will be valid for a period of three years with the possibility of subsequent renewal. So that Alexander Grigorievich does not suddenly change his mind, the principle of payment is provided, regardless of whether he used the service or not. Now the turn of Belarusian fertilizers has come, but this requires appropriate port facilities. There are two ways to solve this problem.
Three large-scale infrastructure projects are currently being implemented in the Russian part of the Baltic Sea. These are the Lugaport universal terminal from the Novotrans company and the bulk cargo terminal from Ultramar in Ust-Luga, as well as the Primorsky universal loading terminal, respectively located in the city of Primorsk. However, Minsk is more interested in the prospect of opening its own terminal in the Leningrad region using funds saved during the construction of the BelNPP with a Russian loan. So far, this issue is under discussion, but, apparently, the Belarusian terminal may appear in Ust-Luga. If the project is implemented, Klaipeda may lose from 9 to 10 million tons of cargo, which is more than one fifth of the total volume of Belarusian transit.
From such news, it's just right to start pulling your hair out in all available places, but Lithuanian businessman Igor Udovitsky, known as the local "potash king", hastened to reassure his fellow citizens that in the coming years such a reorientation to Russian ports is impossible, if not even dangerous Minsk and Moscow. Let's take a closer look at his arguments.
At first
Udovitsky, who himself sold to Belarus a 30% stake in the bulk cargo terminal in Klaipeda, believes that this "anchor" should not allow Minsk to break away and sail towards Moscow. Indeed, geographically, it is more convenient for Belarus to use the services of neighboring Lithuania, but in
the economy
intervened
policy
... What will Alexander Grigorievich do? Let's be realistic: most likely, President Lukashenko will prefer to spread his eggs in two baskets at once, as he has done earlier with oil products. Half of the Belarusian export will go through Ust-Luga, and the second will remain in Klaipeda. This is how Batka diversifies its risks and will be able to make meaningful hints to both Moscow and Vilnius at the same time.
Secondly
, regarding the economic disadvantage of such a reorientation of freight flows. Udovitsky points out that the transport leg will be significantly lengthened, Minsk will have to purchase and use a thousand railway cars, and use ice-class ships in winter. Indeed, the costs will increase, but this volitional decision is not so much economic as political. Losses of Belarus will be compensated by discounts on railway tariffs or by another financial scheme, while for Russia it is a matter of integration with its only ally in the western direction. You have to pay for this.
Thirdly
regarding Minsk's reluctance to grant Moscow indirect control over the export of one of its main export goods. Indeed, Belaruskali and Uralkali are direct competitors in the world market, and President Lukashenko's desire to isolate himself at a separate terminal in Ust-Luga is quite natural. But let's be realistic again, after the break in relations with the West, Alexander Grigorievich has nowhere to go. The merger of the two companies is a matter of time, and it will be better for Belarus if it is a partnership instead of a hostile takeover.
As for the last, most resonant argument of Mr. Udovitsky, it causes genuine bewilderment. The Lithuanian businessman stated the following in all seriousness:
There are risks of an even higher order. The Baltic Sea is connected to the North Sea and the Atlantic through the Danish straits, which are the territorial waters of NATO countries. Relations between the EU, NATO and Russia continue to deteriorate, and at some point, as one of the measures of pressure on Russia, there may be a restriction on the passage of ships through the straits to Russian ports. If at this moment "Belaruskali" is loaded, for example, in Ust-Luga, it will become a hostage of the situation.
What is the restriction on traffic to Russian ports? Foreign courts banned from visiting Ust-Luga on pain of sanctions? Let's admit. And what about the Russian ships leaving Ust-Luga and going through the Baltic straits to the exit? Will they also be banned? Will they arrange a naval blockade by the NATO Navy? Well, this is already a war and there will be no time for fertilizer trade. And what if Lithuania itself prohibits Belarus from using Klaipeda for political reasons? Then Minsk will not be a hostage of the situation?
Some "murky" threats are coming from Lithuania, where local businessmen in fact undertake to threaten the nuclear power with the fleet of the North Atlantic Alliance.