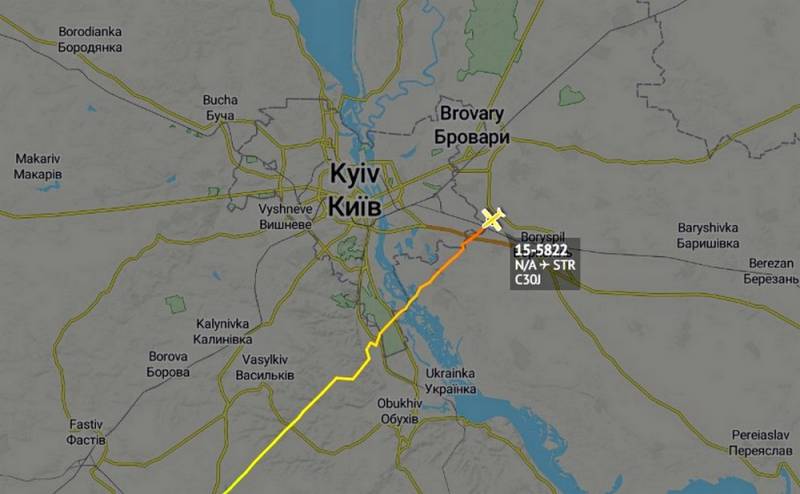 On April 2, 2021, airspace monitors documented the flight of a US Air Force Lockheed Martin C-130J-30 Super Hercules military transport aircraft over Europe. It took off from the Ramstein airbase in western Germany and landed in Kiev.
It is not known what exactly the American aircraft (15-5822 / HKY799) brought to Ukrainian soil. Even the Ukrainian media and hordes of local grant-eaters - "patriots", who are almost always aware of events, are silent about this. However, this happened against the background of the aggravation of the situation in Donbass and Kiev's calls for help to Western countries due to the fear of "Russian aggression". Therefore, there is practically no doubt that the cargo delivered to Ukraine has a military purpose.
After landing in Kiev, an American plane with a carrying capacity of 19 tons headed for Lvov. 30 km from this city is the Yavoriv military training ground, where NATO instructors train the soldiers of the Armed Forces of Ukraine.
One more detail is noteworthy. On the same day, the General Staff of the Armed Forces of Ukraine reported that Ukraine is going to increase its "national contribution" to NATO's operational activities.
Already this year, it is planned to attract the first assets to the NATO mission in Iraq and Operation Marine Guard in the Mediterranean Sea, and in the future - to increase our contribution
- Colonel Andrei Pavelko informed, recalling that the Armed Forces of Ukraine are already involved in the work of the Alliance in Kosovo and Afghanistan.