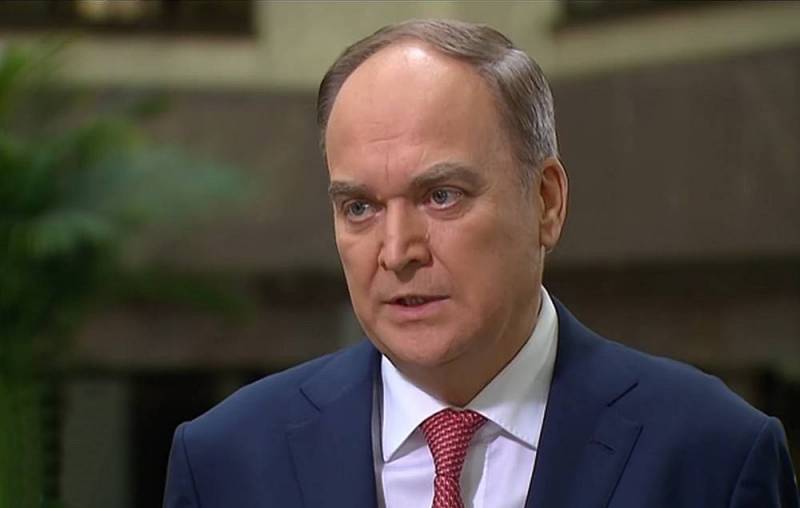 After a memorable remark by the US President on March 16 in an interview with ABC TV channel that Vladimir Putin is a "killer" and must "pay" for Russia's alleged interference in the American elections, Russian Ambassador to Washington Anatoly Antonov was summoned to Moscow on March 21 for consultations. After returning to Moscow, Antonov expressed the opinion that in the near future he will return to his duties. But the decision on his return to the capital of the United States has not yet been made.
This will be decided by the President of Russia ... It is important for us to analyze the current stage of our relations
- noted the head of the Russian Foreign Ministry Sergei Lavrov on April 1 on the air of "Channel One".
According to the minister, Antonov is currently holding the necessary consultations in the foreign policy department, meeting with officials from the presidential administration, as well as from the State Duma and the Federation Council.
Sergey Lavrov also stressed that now is the time for a deep analysis of Russia's bilateral ties with the United States. The crisis in relations did not come now and is not expressed only by the boorish trick of Joseph Biden - the situation has been sliding into the abyss for a long time, which demonstrates the urgent need for such an analysis. After a number of years, the time has come to draw conclusions and generalizations.
In turn, the Valdai Club expert Dmitry Suslov believes that Russia will not return the ambassador to Washington until the White House explains itself for Joe Biden's boorish words.
The delay in Antonov's return at least indicates that Russia is still not satisfied with the explanation for Biden's rudeness, which followed Putin, and the absence of any apology from the United States, as well as Washington's desire to hush up this topic and return to the usual format of relations with Russia
- said Suslov in an interview with the agency
TASS
.