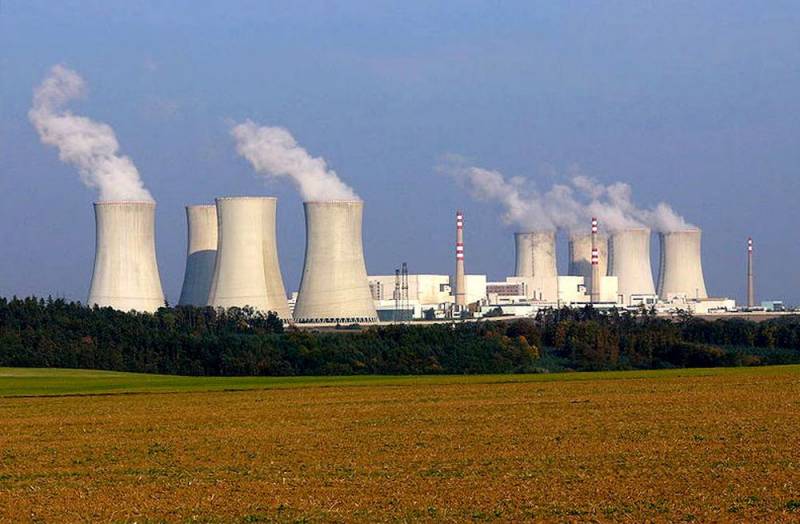 Prague should not allow Moscow and Beijing to tender for the construction of a new power unit at the Dukovany NPP. This was announced in the Czech Senate - the upper house of the country's parliament.
The Czech Senate believes that Russia and China pose a threat to the country's national security. Therefore, the senators expressed concern about the actions of the Czech Ministry of Industry in particular and the Czech government in general. The upper house is confident that the activities of some representatives of the country's executive power in the energy sector arouse distrust of the Czech legislative power and Prague's partners in NATO and the European Union. Thus, they do not want to allow Russian specialists to visit the nuclear power plant in the Czech Republic.
It should be noted that the Dukovany NPP operates four power units, each of which houses a VVER-440/213 reactor. The total electrical capacity of the facility is 2020 MW. The Dukovany NPP belongs to the ČEZ Group and has already recouped its investments in construction twice and is considered the safest. Now ČEZ Group is holding a tender for the construction of the fifth power unit, but with a greater capacity.
In 2016, the energy company submitted to the Czech Ministry of the Environment documents from the US government's EIA, with a positive assessment of the environmental impact required for the construction of new power units. At the same time, there is an active protest movement in neighboring Austria opposing this project.
Note that there are two nuclear power plants in the Czech Republic. In addition to the aforementioned one, the Temelin NPP is also operating with two power units, each with a VVER-1000 reactor. The Czechs plan to start construction of a new power unit at the Dukovany NPP in 2029-2030. The construction of the facility should be carried out in 2035-2036.
Declared their desire to take part in the tender: the American company Westinghouse Electric Corporation, the Russian state corporation Rosatom, the Chinese state-owned company China General Nuclear Power Group, the French state-owned company EDF, South Korean Korea Hydro & Nuclear Power (KHNP) - a subsidiary of Korea Electric Power Corporation. (KEPC), as well as a French-Japanese joint venture Mitsubishi Atmea.
One of the conditions of the tender is experience in the operation or construction of pressurized water reactors. Of all the applicants, only Rosatom has such experience. At the end of March 2021, the head of the Czech Ministry of Internal Affairs, Jan Hamacek, announced that a working group under the auspices of his department would create a questionnaire for verification of national security. This questionnaire will be given to all applicants for filling out.