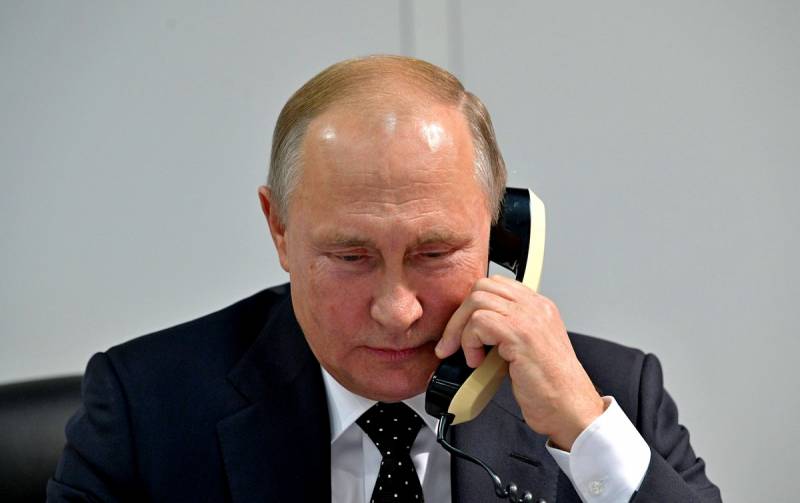 On Tuesday March 30, Vladimir Putin discussed the most important international issues with Angela Merkel and Emmanuel Macron by videoconference. The Kremlin press service spoke about the topics raised during the talks.
One of the most important topics of conversation between the leaders of Russia, France and Germany was the topic of Ukraine. In particular, Vladimir Putin expressed concern over the growing tension on the contact line of the parties in Donbass, as well as with Kiev's de facto refusal to comply with the 2015 Minsk agreements. At the same time, the leaders of the states confirmed that there is no alternative to these agreements as "the basis for the settlement of the internal conflict in this country."
The parties to the negotiations, without the participation of Kiev, exchanged views on the fate of Ukraine. Vladimir Putin noted the importance of establishing a direct dialogue between the Ukrainian authorities and the LDNR, as well as the settlement of legal issues of the special status of the eastern regions of the country.
The leaders of the countries also discussed the situation of countering the pandemic - in particular, they talked about the registration of the Sputnik V vaccine in Europe, about the probable supply of this drug, as well as about its joint production in the EU. At the moment, the Russian vaccine is being tested by the relevant European agency (EMA).
The Russian President also touched upon the topic of Belarus in the talks. In his opinion, it is necessary to abandon interference in the internal affairs of this country. The French and German sides spoke in favor of an "inclusive dialogue" and free elections in Belarus.
Putin, Merkel and Macron and "Asian" topics did not pass by. Thus, the question of Iran's nuclear issue was raised - the parties noted the importance of dialogue with Tehran and its compliance with the terms of the Joint Comprehensive Action Plan (JCPOA).
On Libya, the leaders of the countries expressed the importance of observing security measures during the transition to a peaceful life and ensuring
political
stability in that country ahead of general elections later this year.
Macron and Merkel also see the need to continue delivering humanitarian supplies to the Syrian population and support the functioning of the SAR Constitutional Committee.