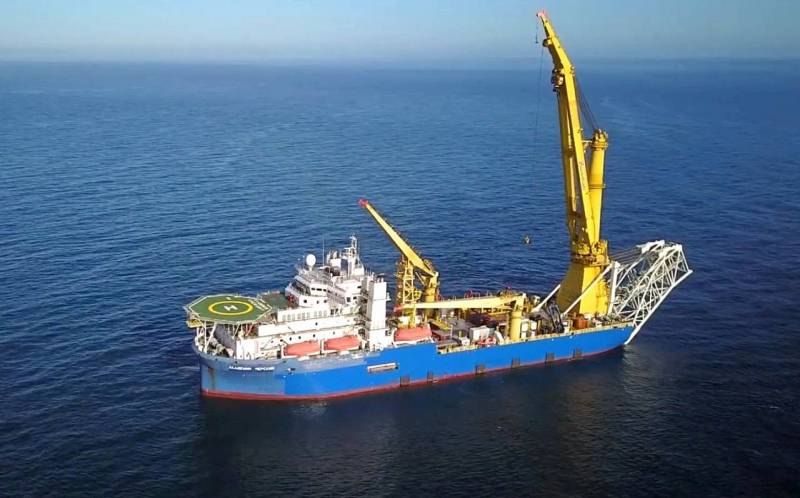 Russia plans to accelerate the completion of the Nord Stream 2 gas pipeline under the Baltic Sea and, for this purpose, is attracting another pipe-laying vessel to complete the work, the Danish Energy Agency informs about this, citing data from Nord Stream 2 AG.
This ship will be the "Akademik Chersky", moving from the Kaliningrad Curonian Spit in the direction of SP-2 and leaving the zone of sea and pre-operational tests on March 30. The vessel is expected to reach the "high seas" on the evening of 31 March.
The involvement of Chersky along with Fortuna will speed up the laying of Nord Stream 2 - this is the opinion of the respondents.
TASS
experts.
Obviously, two ships will run faster and more efficiently
- believes Konstantin Simonov, director of the National Energy Security Fund.
In particular, the new pipelayer will be able to speed up the completion of the gas pipeline by the fact that, with the participation of the ship, the welding of two sections of the gas route can be carried out directly at sea, and the number of sea docks will be reduced. At the same time, according to the director of the Institute of National Energy Sergei Pravosudov, Fortuna will continue to work on smaller construction sites, while Akademik Chersky will be able to lay pipelines in deeper waters.
According to the Danish Maritime Administration, "Fortuna" and "Akademik Chersky" until September this year will lay both lines of the pipeline together with the supply ships "Murman", "Baltic Researcher" and other vessels.