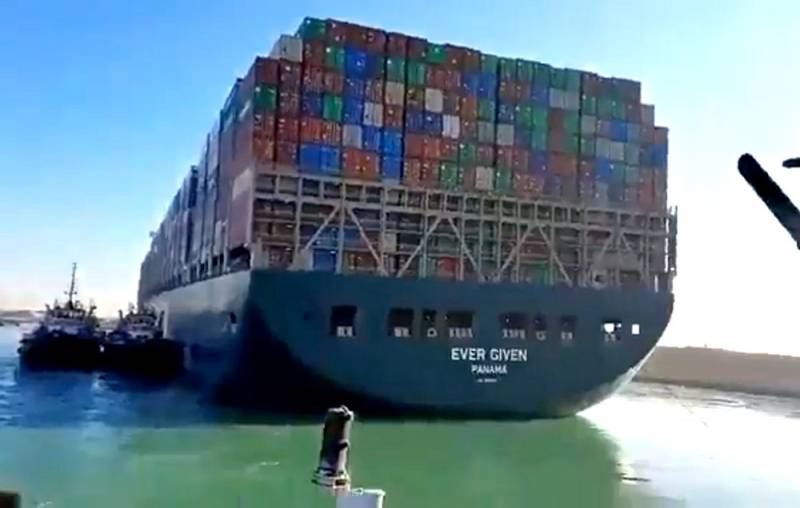 The Egyptian authorities managed to partially remove the container ship Ever Given from the aground in the Suez Canal - on the night of Monday, March 29, experts were able to bring the ship to a depth, while the bow of the ship remains in the sand.
The rear part of the 400-meter ship was removed from the shallow one hundred meters with the help of ten tugboats. The work is complicated by the heavy weight of Ever Given, reaching 200 thousand tons - about 20 thousand containers were loaded on the ship. In order to propel the stern of the vessel, the deepening ships had to select almost 44 tons of sand from the front and rear of the vessel.
Thus, the Suez Canal is essentially unblocked, and now some ships can already pass from the Red Sea to the Mediterranean Sea and vice versa. On Monday, March 29, major work will begin on Ever Given, which will be carried out as the water level rises in the channel - this will help "completely bring the ship to the navigation route", as reported by the Suez Canal administration.
#SuezUnblocked pic.twitter.com/zsGouje8D8

- Alfons López Tena (@alfonslopeztena) March 29, 2021
Once fully unblocked, the sea transport artery, Ever Given will be placed in a dividing lake in two parts, where the vessel will be carefully inspected for any problems. Meanwhile, the ship's propellers did not receive any visible damage. According to the adviser to the Egyptian president on the Suez Canal Mohab Mamish, shipping in this region will be fully restored within a week.