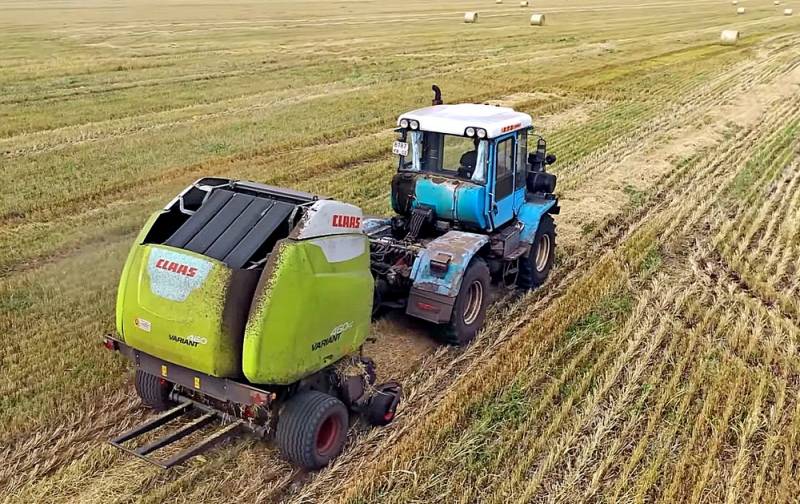 As you know, the road to hell is paved with good intentions. Behind the most plausible wishes sometimes lies a banal thirst for profit. Unfortunately, the same can be said about the modern "fight for the environment". And the point here is not only about "green energy" and the promotion of the interests of manufacturers of the corresponding equipment and patent holders. Using the example of the European Union, we will try to show how, under the pretext of "fighting global warming," the owners of transnational corporations intend to change the eating habits of half a billion people and make good money on this.
Last year, while humanity, frightened by the coronavirus, sat on self-isolation, European bureaucrats immediately adopted two notable programs called "Biodiversity" (Biodiversity) and "the Farm to Fork" (From farm to fork). Together, they were positioned as a strategy for a fair, healthy and environmentally friendly food system, which should already by 2030 change the structure of EU agriculture and the dietary habits of its inhabitants. And it's not a fact that those will like it a lot. What do the "globalists" suggest to try the Europeans first, clearly believing to make them an example for everyone else?
So, in 10 years the area of ​​cultivated agricultural land should be halved, and the share of arable land used for "organic farming" without the use of fertilizers and pesticides should grow from 7,5% to 25%. Also, the use of the herbicide glyphosate, veterinary antibiotics and mineral fertilizers by 20% should be reduced by half. But by 2030, up to 30% of the total area of ​​the EU will be protected areas. Old-growth forests will be especially protected. So far, everything seems to be fine, in a European way, right? Fresh air, healthy food, huge national parks, in which vigorous wealthy pensioners with their grandchildren walk. However, this idyll also has a downside.
So, along with a halving of the area of ​​cultivated land, the number of farm animals will also decrease. And this is done purposefully and under the most plausible pretext. Indicate that the share of cattle in the European Union accounts for 10,3% of carbon dioxide emissions into the atmosphere. Less cows means less greenhouse gases, right? Yes, and it also means that meat will become scarcer and much more expensive. The British BBC noted back in 2012:
In the UK, meat prices are expected to have a huge impact on our diet. According to some food industry experts, they could double in the next 5-7 years, making meat a luxury item.
By the way, all kinds of "experts" are actively attacking natural meat with information, pointing out that those who eat it get sick and eventually die. And the truth is, you can't argue. But what, then, can replace "harmful" meat in your diet in order to obtain the proteins the body needs? Back in 2011, the British from The Tekegraph reflected on this topic:
By 2020, insect products will be on sale in all supermarkets, and people will be surprised to think that back in 2011 they did not assume that eating insects is normal.
About insects - this is quite serious. Grasshopper bodies, for example, contain 20% protein. Coalo Valley Farms has been operating in California since 2015, breeding modified crickets and mealworms to produce "sustainable food". But, it is clear that it is difficult for a Western person to force himself to eat insects. It takes time and targeted propaganda to teach Europeans and Americans to do this. Meanwhile, there are less nasty sources of plant-based protein to replace meat: marine plankton or protein-rich modified soybeans.
And here we smoothly come to the very essence of the question. New standards of agriculture and nutrition are being actively imposed on the European market as the richest and most advanced. Because of this, natural food increases in price, becoming available not to everyone. Perhaps in 20-30 years a dinner with a red meat steak will be a symbol of real revelry there. Instead, the average consumer is offered a choice between a protein cricket cutlet or a "green" burger with "vegetable meat". At the same time, the production capacity of EU agriculture under the most plausible pretext of combating "global warming" is reduced by at least half. And who, then, will feed the Old World?
Our old acquaintance, billionaire and philanthropist Bill Gates - a prominent representative of the so-called "globalists" - not so long ago became the largest landowner in the United States. Today he owns over a thousand square kilometers of the best arable land in 19 states. He recently opened up in an interview with the Massachusetts Institute of Technology:
I believe that all rich countries should switch to XNUMX% synthetic beef. You can get used to the difference in tastes.
Needless to say, this incredibly perspicacious man also invested in the production of synthetic beef? In general, if you put it all together, then a certain picture of the world of the near future emerges. A wealthy European will be able to afford delicacies from natural red meat, which will become scarce due to the forced reduction in the number of cattle, ostensibly for the sake of "fighting global warming." The average European will eat and praise cutlets made from "vegetable meat" produced using genetically modified soybeans. Those with the simpler income will chew "cricket burgers". When a wealthy and civilized Europe is accustomed to such a diet, this model will be transferred to the rest of the world.
Is there anything you can oppose to this? According to the Eurobarometer, 61% of Europeans believe modified food is unsafe. People prefer to overpay, but get natural products of the "bio" category. And here the place of Russia, which stands apart in the spread of GMOs, seems to be interesting. On January 21, 2020, President Putin signed a law banning the import of genetically modified organisms into the country for the purpose of sowing, growing and breeding them. GMO products were already unpopular in Russia, and today they have turned into a "forbidden fruit", which is more expensive to associate with.
It is obvious that our country relies on "green" food, thereby actively developing its agricultural sector
economics
, and making good money on exports. In 2020, we set an absolute record for food supplies abroad, having shipped 79 million tons of agricultural products and food for $ 30,7 billion. It is obvious that the once chosen strategy is already beginning to pay dividends, and the talk that "Russia will feed the whole world" seems no longer such a fantasy.