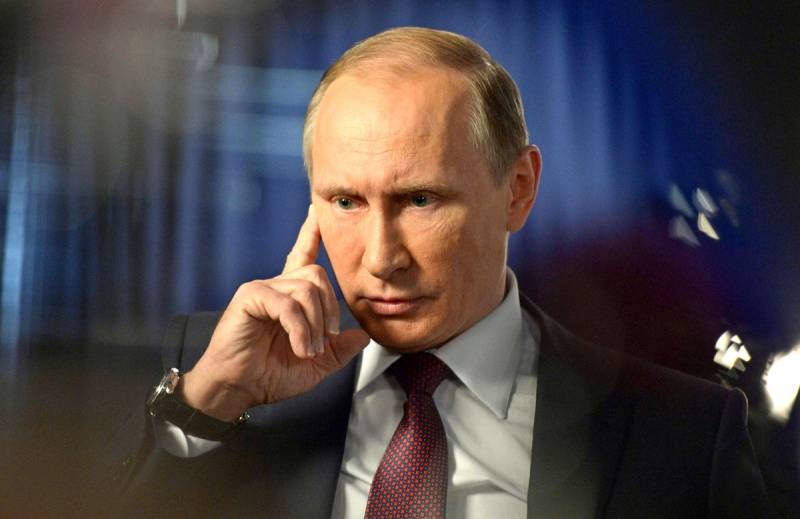 Joseph Biden, insulting Putin, spoke not on his own behalf, but on behalf of the group that nominated him to the Olympus of power. And, above all, on behalf of the Democratic Party. Accordingly, Putin answered not so much to Biden as to this group. What is the reason for this?
In fact, there are two reasons.
1.
Putin is constantly and steadily increasing
political
and the military weight of the Russian Federation in the international arena. Neither Democrats nor Republicans can do anything about it. What causes irritation, turning into hysteria.
2.
When the Russian Federation is in trouble, like the squeezed-out buildings in the United States, there are many in the media who want to inflate such events and draw far-reaching conclusions from them about Russia's weakness.
All the clowning with these buildings took place in the summer - at the beginning of autumn 2017. By a strange coincidence, it was at this time that the investigation of the transaction on the transfer of Uranium One into the ownership of Russia was launched. It is likely that they tried to provoke Putin into harsh actions or force him to leak some information. At any cost, up to and including outright lawlessness. But they ran into the wrong one.
What is the problem?
The United States is clearly aware that the Russian Federation holds the world uranium market.
Rosatom extracts uranium "with two hands", one of which is called Atomredmetzoloto (ARMZ is responsible for mining in Russia), and the second - Uranium One, which produces another 4385 tons of uranium worldwide. If we add up the shares of ARMZ, Uranium One and Kazatomprom (Kazakhstan), then it will amount to 35,6% of world production. Moreover, these are the best deposits, with a high uranium content and large reserves. And the most effective
technology
, including the technology of in-situ leaching. Therefore, the production and processing costs are very low.
Rosatom has a complex hidden relationship with Kazatomprom, in which Rosatom is not a subordinate partner, but at least an equal partner. And the Canadian company Uranium One owns mining enterprises in Australia, Tanzania, Namibia, Kazakhstan, Canada, South Africa, and the USA.
When he was prime minister, free from the current duties of the president, V.V. Putin is preoccupied with uranium. That is, he never forgot about uranium, but after his speech in Munich (which the West preferred not to hear), he had to take decisive action. Preparation of Uranium One for turning into a sweet piece, with subsequent sale, went on before, but without visible participation of Russia.
For example, in 2005, Mr. Giustra, head of UrAsia Energy Ltd., met on business in Kazakhstan. By coincidence, Bill Clinton had a need to discuss human rights in general and in Kazakhstan in particular with Nursultan Nazarbayev. Why not combine two visits on Giustra's private jet? Clinton had a very meaningful conversation with Nazarbayev, and a few days later Mr. Justra's young company signed a preliminary deal giving her stakes in three uranium mines controlled by the state uranium agency Kazatomprom. And in 2007, the company merged with Uranium One, a then South African company with assets in Africa and Australia, in a $ 3,5 billion deal. The new company, which retained the Uranium One name, was controlled by UrAsia investors, including Jan Telfer, a Canadian who became chairman of the board of directors. Through a spokesman, Mr. Giustra, whose personal stake in the deal was estimated at about $ 45 million, said he sold his stake in 2007. And at the end of 2005, Mr. Giustra decided to do charity work and donated $ 31,3 million to the Clinton Foundation.
When the donation was leaked to the media, Giustra said he was proud to work with Mr. Clinton on philanthropy and urged the media to focus on poverty, health and the world's pressing issues.
Soon, Uranium One began buying up companies with assets in the United States. In April 2007, the company announced the purchase of a Utah uranium facility and uranium deposits in four Western states, followed shortly by the acquisition of Energy Metals Corporation and its subsidiaries in Wyoming, Texas and Utah. The deal made it clear that Uranium One intends to become the locomotive of the US uranium sector with the potential to become a near-monopoly domestic supplier to US nuclear facilities.
Since June 2009, Rosatom has started buying Uranium One shares. To begin with, 16%. In June 2010, it increased its share to 51%. It happened when Clinton was Secretary of State. It is clear that Hillary Clinton had nothing to do with it, because her assistant was in charge of the transaction.
You never know what coincidences there are?
In June 2010, Bill Clinton was invited to speak at an investor conference in Moscow. And the bank Renaissance Capital paid him $ 500 for the show. And Clinton had a meeting with V.V. Putin.
And there are also political coincidences. For the United States, it was very critical to keep Iran from developing nuclear weapons. And in June 2010, Russia signed a United Nations resolution to impose new tough sanctions against that country.
You can write a lot about such coincidences.
Since 2013, Uranium One is wholly owned by Rosatom and is simply its structural division. By then, Clinton was no longer Secretary of State. In 2013, the Democrats were also in power, and Clinton controlled the Democratic Party. It is clear that she personally did not influence the situation in any way. And Biden was the vice president. The undisclosed interest of his family in all kinds of minerals is well known.
But now the US share in world uranium production is no more than 1%. Of not the best deposits. And uranium consumption is 29,4% of the world level. And the US also has no access to its production outside the Russian-Kazakh conglomerate, the second place is held by the French with a share of 18%. The rest is already quite inferior deposits in different countries.
Therefore, we have to bow to Russia.
In the United States, this topic is very toxic. Trump desperately needed proof of the Clintons' corruption in the deal. Therefore, he tried very hard to squeeze such evidence out of Putin. Did not work out. This is understandable: where did Putin get the proof ...
Clinton herself had a big problem, using her personal mail for official purposes. She doesn't have a KGB school. But somehow everything settled down.
The FBI, the Justice Department, Congress, and the press were involved in this deal ...
Nothing legally worthwhile was found. Witnesses who are going to say something bad about the Clintons are somehow very unlucky in life. From the word "absolutely". Anyone can search the Internet for "the Clinton list", "The bloody harvest of the Clintons." So when Putin replied: "... he himself is called that", he knew what he was talking about. And there is nothing funny in this phrase.
They drank a lot of blood from the Democrats on this occasion. Everyone is offended that the Russians are mining all the best American uranium. It is clearly time to stop. And the Senate received a proposal to ban the import of Russian uranium. But, in connection with the elections, all hands will not reach in any way.
One could try to chop off Uranium One shares from Rosatom. But for some reason no one is doing this.
By coincidence, since the beginning of the transfer of ownership of Uranium One to Rosatom and some time after the complete transfer, $ 145 million has been transferred to the Clinton funds in various amounts. Of course, for charity, from people associated with the mining and processing industry. Including from the former owners and managers of Uranium One.
But the matter is the past, why remember? Therefore, in vain is Biden so about Putin. A good man, after all. And it is always pleasant for a good person to help. If he asks convincingly.
And Biden took and called him on March 17th. Earlier, on February 24, the Wyoming Department of Environmental Quality (WDEQ) Land Quality Authority announced its approval of an on-site uranium mining permit (ISR) application filed by Uranium One, owned by Russian nuclear state corporation Rosatom.
It's a coincidence, of course, and Biden has nothing to do with it. Wyoming is.
Here's a version. Highly likely.
And only Biden himself can say for sure about this. "But it is not exactly".