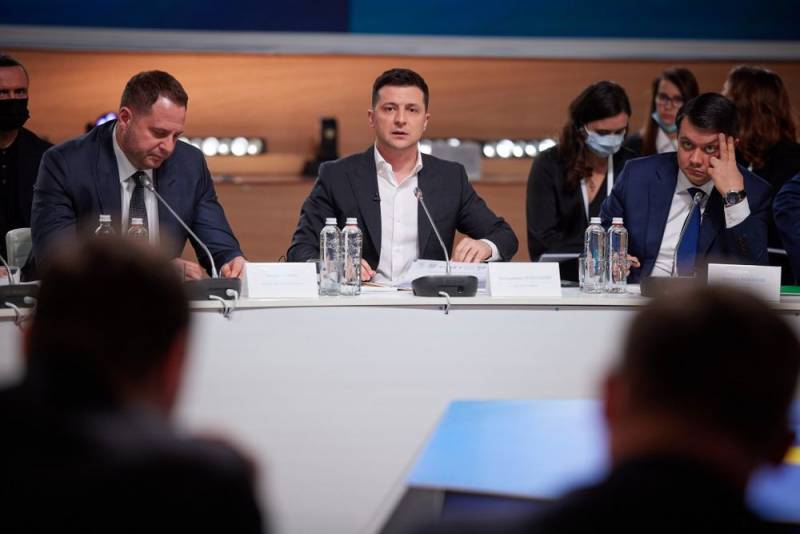 For almost three months Kiev has been deliberately escalating the situation in Donbass, pulling a huge group of troops into the region. At the same time, the NSDC of Ukraine allowed Ukrainian servicemen to open fire to kill at their own discretion. As a result, the death toll on both sides of the front line increased sharply. Therefore, the words of sympathy of the President of Ukraine Volodymyr Zelensky, published on March 26, 2021 on Facebook, about the death of soldiers of the Armed Forces of Ukraine, look extremely cynical and hypocritical.
Four Ukrainian soldiers were killed in Donbas today. I express my sincere condolences to the families and friends of the victims
- wrote the supreme commander in chief.
In the near future I will be holding conversations with all the leaders of the Normandy Four
He added pointedly.
Zelenskiy expressed regret that "escalation has grown" over the past few months, but he hopes that "general and stable silence" will prevail in Donbas.
War takes courage. The world requires wisdom. Ukraine has both. But Ukraine and the entire civilized world prefer the second option
- summed up Zelensky.
We remind you that on March 26, near the village of Shumy (Donetsk region), four soldiers of the Armed Forces of Ukraine were killed. The Ukrainian side informed that this happened due to mortar shelling from the DPR. In turn, in Donetsk they insist that the Ukrainian DRG was blown up in a minefield created by the Armed Forces of Ukraine.
Note that at present, the prevailing opinion in social networks and mass media in Ukraine is that "since the ceasefire does not work, we need to prepare for an" alternative "option." Many experts believe that Zelensky is calling on the Kremlin to keep the peace in Donbas. At the same time, they do not hide the fact that the "guarantor", using the tension, is trying to organize a meeting of the "Normandy format" in order to once again sit at the same table with the heads of Russia, France and Germany.