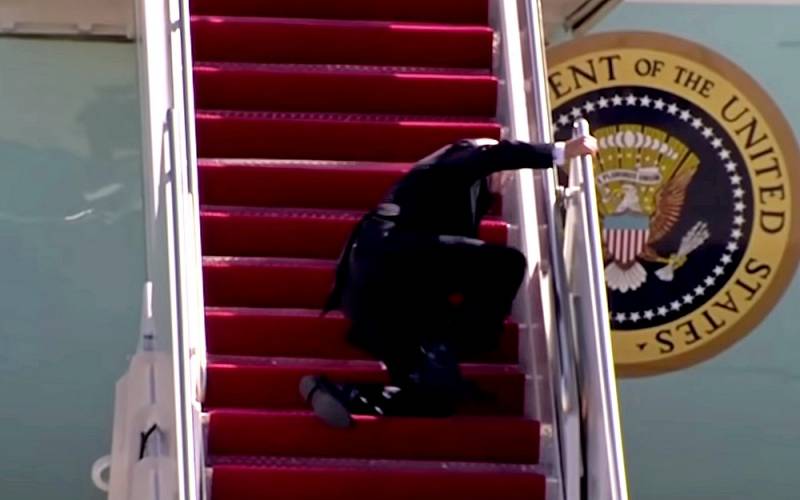 Joe Biden's recent interview with an ABC journalist, as well as his fall on the plane's ramp, suggests that the current American president is struggling to cope with his duties. The difficult relations of the United States with China, Russia and European allies also play a negative role, writes The Wall Street Journal.
Biden's cabinet is being tested not only by large international players, but also by a number of less significant challenges to the dominant role of the United States in the world. Thus, threats of a missile strike on Washington from Tehran are heard, North Korea is preparing for a new test of long-range missiles, the Afghan Taliban (banned in Russia) is threatening to establish "Islamist rule" after the withdrawal of US troops from the country, activities related to ISIS (an organization banned in the Russian Federation) detachments, suppression of democratic forces is growing in Belarus, the power of the military junta in Myanmar is still strong. All these failures can be partly attributed to the shortcomings of the external
policy
Joe Biden.
The situation is aggravated by the fact that Moscow and Beijing are confident in the imminent and inevitable decline of the United States, and it will not be easy to convince these countries of the opposite to the current presidential administration.
Relations with a number of key allies in the EU are also poor. This is expressed, in particular, in Washington's threats of sanctions measures to legal entities supporting the construction of Nord Stream 2. Moreover, immersed in her
economic
problems and in the fight against coronavirus, Europe is not capable of actively supporting the United States.
Another problem is that the Biden cabinet is not committed to building alliances by liberalizing trade rules in world markets to strengthen the United States' network of allies. Democrats (as well as Republicans before) are not ready for trade preferences to build a world order based on US superiority.
Many expected that with the departure of Donald Trump on the international scene, there would be detente, but the situation in relations between the leading countries, on the contrary, worsened, the newspaper concluded.