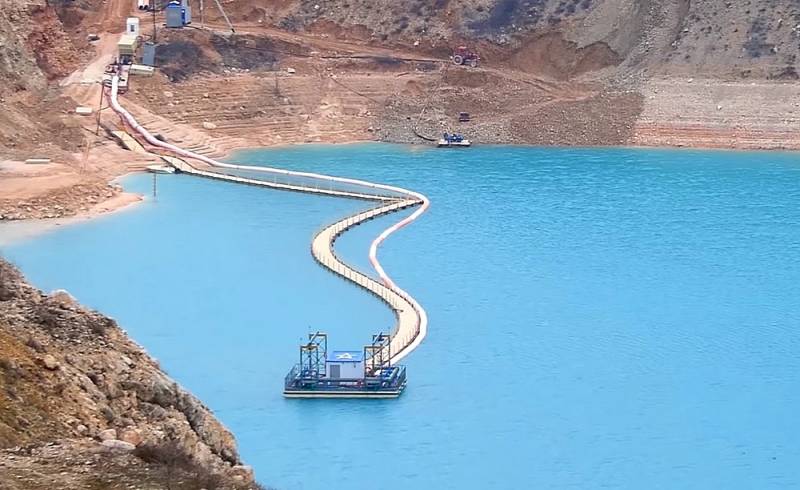 The process of supplying Crimea with water has not yet been properly established, and as a radical solution to the water problem of the Crimean peninsula, it is proposed to build a water pipeline from the Tsimlyansk reservoir located on the Don - its length will be about 1 km. Engineer and builder Felix Kuntsevich spoke about this in an article on the water supply of Crimea, published in the industry magazine "Hydraulic Engineering".
The water conduit will consist of a bundle of polymer pipes, each of which will be 1600 mm thick. The pipes will be laid along the bed of the Don River, as well as along the bottom of the Azov and Black Seas in the direction of certain sections of the peninsula's coast. To increase the resistance of pipes to the action of currents, it is possible that an unfilled pipe surcharge will be applied.
Thus, an annual withdrawal of about 4,1 cubic kilometers of water is expected from the Don, which, it would seem, can cause dehydration and a source of environmental problems in the Rostov region. This state of affairs can be prevented by continuing the construction of the Volga-Don 90 irrigation canal, which was stopped in the 2s - in this case, flowing through the territory of the Volgograd region, it will help introduce new lands into agricultural circulation and equalize the negative water balance of the Don.
Kuntsevich is confident that the water supplied through the new pipeline can more than satisfy the needs of the Crimeans, including in terms of providing industrial and agro-industrial infrastructure. The use of artesian wells is not able to adequately solve the water problem of the Crimean peninsula.
Earlier, a scientist from Yekaterinburg proposed an original and relatively inexpensive method of water desalination in Crimea, based on the effect of electricity on it. With this method, energy consumption is two to three times lower than when using a reverse osmosis system.