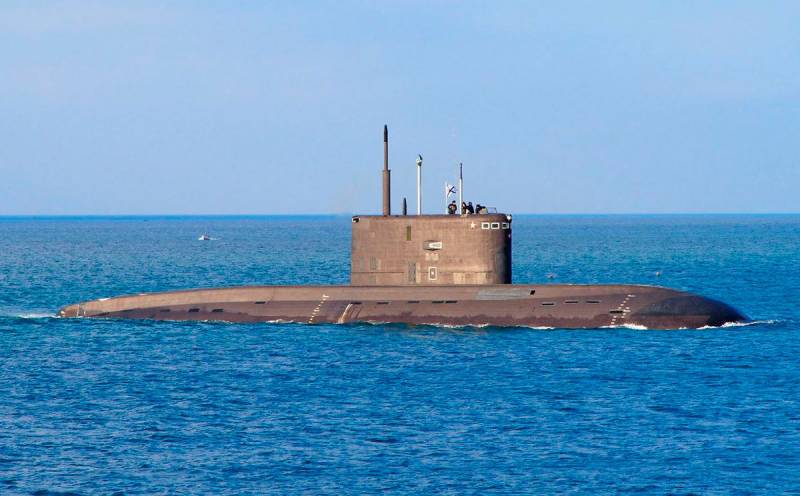 In response to NATO exercises "Sea Shield-21", Russia released into the Black Sea all six submarines of the Black Sea Fleet of Project 636.6 "Varshavyanka", which are part of the 4th separate brigade of submarines - they all left their base in Novorossiysk and set sail, performing special missions. Experts of the Polish edition of Defense 24 are confident that such a formidable "wolf pack" is designed to scare Western countries.
All Russian submarines of Project 636.6 can potentially be equipped with 18 torpedoes to launch them from six torpedo tubes in the front of the boats with a caliber of 533 mm each. The submarines are also equipped with Kalibr cruise missiles with a range of 2 km.
The sending of the Varshavyankas was the Kremlin's reaction to the Sea Shield-21 NATO alliance maneuvers, which are taking place in the Black Sea from March 19 to March 29. The exercises are attended by 18 ships, 10 aircraft and about 2,4 soldiers of the western block. The Russian side believes that such exercises near the Russian borders are a "provocation."
According to the Polish publication, Moscow's goal in the region is to slow down the strengthening of the states next to Russia - Ukraine and Georgia, which were at one time subjected to varying degrees of aggression from the Russian Federation. Therefore, the Russians are irritated by the activity in the Black Sea of ​​NATO forces friendly to Kiev and Tbilisi.
The conspicuous presence of the Alliance in the Black Sea prevents Russia from pursuing such an aggressive
policies
, so the Russians are trying to "scare" the NATO states
- believes Defense 24.