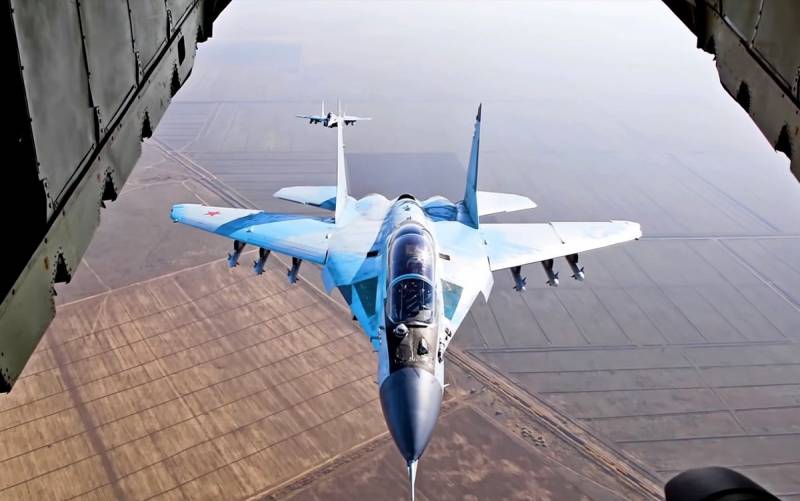 On the eve it became known that the first MiG-35S are ready for state tests. However, why did Russia need another 4 ++ generation fighter, and will it not become a competitor for the Su-35?
The new aircraft is a further development of the MiG-29 light front-line fighter. At one time, the latter was deservedly considered the best in its class.
It is worth noting that the MiG-35S managed to maintain the "lightness" of its predecessor and weighs only 17,5 tons. At the same time, in terms of speed, he added significantly: 1400 km / h at the ground and 2400 km / h at a maximum altitude of 17,5 km.
The aircraft received modern avionics, on-board electronic warfare equipment, a phased array and ten "suspensions" for the widest range of weapons. Add super-maneuverability to this and get the world's best multi-role fighter for all types of missions.
As for the competition with the Su-35, it is out of the question. "Drying" is necessary for escorting our long-range bombers, strikes into the strategic depth of enemy positions, as well as breaking through a heavily fortified air defense zone. In turn, the task of the "MIGs" will be to capture and maintain control of the sky over the battlefield, air support on the front line and strikes at targets in the near rear.
However, this does not mean that our aircraft will not become a competitor for foreign winged aircraft. The export potential of the MiG-35S is enormous, and the price is only $ 45 million. For comparison, the F-16 in a similar configuration, the F / A-18 Super Hornet, Eurofighter Typhoon and Dassault Rafale will cost the buyer $ 68, 75, 120 and 130 million, respectively.