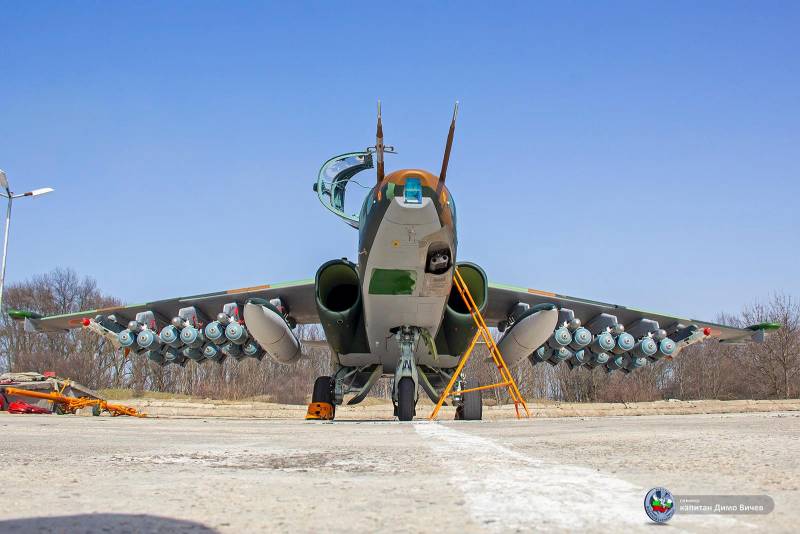 The Bulgarian Air Force received eight updated Su-25 attack aircraft from Belarus at its disposal. On the occasion of the commissioning of the aircraft, a photo session was arranged, in which one of the attack aircraft poses with 24 FAB-100 bombs of 100 kg caliber.
Earlier, the aircraft underwent overhaul and refurbishment in Baranovichi at the 558th Aviation Repair Plant.
According to the results of the repair work, the service life of the attack aircraft fuselages was extended by 800 flight hours, and the Su-25 R-25Sh turbojet engines can operate for 500 hours longer. The updates will allow Bulgarians to use these aircraft until 2027-2028, with the possibility of extending this period for another ten years, subject to another overhaul of the engines and airframe.
After the repair, the Su-25 received new combat capabilities - the range of missile weapons used was expanded and the accuracy of hitting ground targets was increased with an increase in the distance to them. Probably, the military department of Bulgaria will monitor the combat potential of attack aircraft from the times of the USSR until Sofia purchases new aircraft.
In the updated Su-25, the navigation complex has also been modernized, which includes satellite target tracking. The two-channel communication system was also replaced, which allows the exchange of information with sea and land stations. These and other results of the aircraft modernization will allow the Su-25 to more effectively isolate areas of military operations and solve combat missions at a higher level.