In the days of the USSR, Ukraine was a real pearl of the Soviet
economics
. Through the efforts of a huge number of people, a powerful advanced industry was created. The special pride of the Ukrainian SSR was its atomic energy. In Ukraine, 4 nuclear power plants were built - Khmelnitsky, Zaporizhzhya, Rivne and South-Ukrainian, and Zaporizhzhya NPP is still the largest in Europe. As of 2017, nuclear power accounted for half of all generation in the country.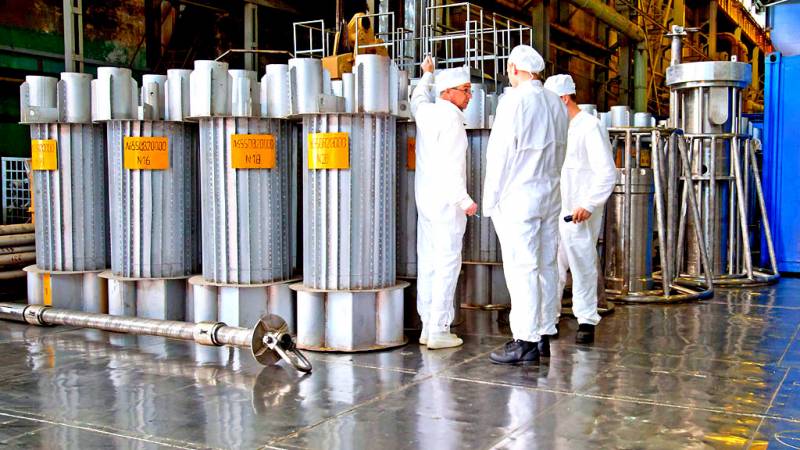 Naturally, Ukrainian nuclear energy is associated with Russian. Nuclear fuel for reactors was supplied by the Rosatom structural unit of TVEL. After the Maidan in 2014, Kiev headed for breaking all ties with the Russian Federation. As an alternative, the Maidan regime chose the American company Westinghouse, having concluded a contract with it for the supply of fuel cells. Currently, several reactors of the South Ukrainian and Zaporizhzhya NPPs have been transferred to American fuel assemblies. Energy Minister Nezalezhnoy proudly declares:
To date, a program is being considered to ensure that 40% of Ukraine's nuclear units operate on Westinghous nuclear fuel.
Russian nuclear scientists point to Westinghouse products mismatching with Soviet standards and predict the possibility of a nuclear disaster similar to the Chernobyl disaster in Ukraine.
It is known that before Maidan, an agreement was signed on the construction of a nuclear fuel production plant in the Kirovograd region that meets all safety requirements. A controlling stake of 50% plus 1 share belonged to Nuclear Fuel of Ukraine, and the Russian TVEL acted as a partner. The production of fuel cells for Ukrainian nuclear power plants was supposed to begin in 2015. Moreover, uranium mined in the most Independent was supposed to be used as raw material. However, all plans crossed out the Maidan in 2014.
Now it turned out that Ukraine was shaking from the USA towards China. Cunning Chinese themselves came to Kiev with a proposal to revive this project, but without Russia. It became known the day before that the Ukrainian Minister of Energy sent a letter to Rosatom in which he invited Brussels to discuss options for the Russian side to leave the nuclear fuel plant. Chinese Nuclear Fuel Corporation is ready to push Rosatom out of Kirovograd.
What is happening is very regrettable, despite the fact that Russia itself does not need fuel from Ukraine. High-tech cooperation collapses completely, China is replacing, which in the future is unlikely to be moved. Moreover, the Chinese settle in Russia itself. For example, a uranium mine should appear in the Trans-Baikal Territory, co-invested by the China National Nuclear Corporation (CNNC).