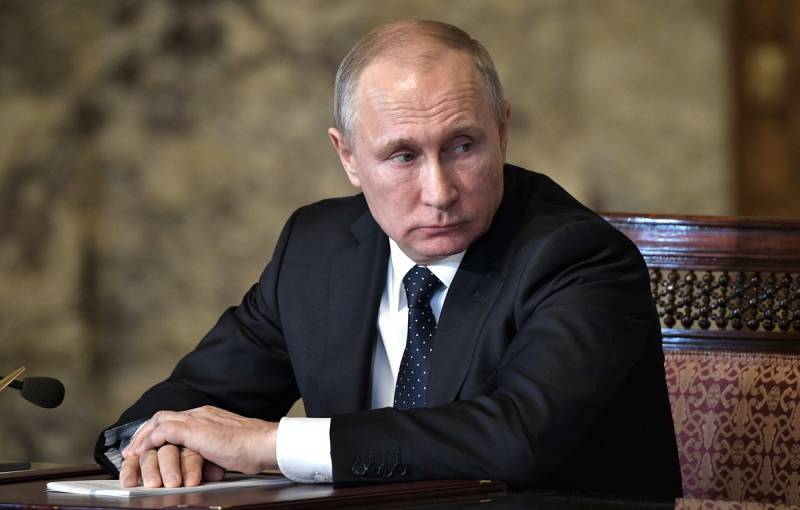 Joe Biden's recent scandalous statement about Vladimir Putin made a lot of noise. The American president, in violation of all conceivable norms of diplomatic etiquette, publicly called his Russian colleague a "murderer." What it was: a manifestation of actively developing senile marasmus, thin
политическая
a game for an intra-American audience or a message to Russian "elites"? Let's try to calmly figure it out together.
Dementia?
The fact that the 78-year-old representative of the US Democratic Party may not have "all at home" has been said for a long time, and not only in Russia. The American president-elect has amazed the audience for several years with constant reservations and strange statements. It was repeatedly noticed how an elderly politician fell asleep right at important official events. His opponent on the presidential campaign, Donald Trump, even coined the nickname "Sleepy Joe" for him. The website of the respected edition of Forbes even published an article with the telling title "Does Biden have dementia? Is it important? " by Elizabeth Bauer. Subsequently, the publication was removed. From recent "pearls", one can recall that awkward moment when the US President in a public speech forgot the name of the country's Defense Department (Pentagon) and the name of its head (Lloyd Austin):
I want to thank the former general. I continue to call him General, but my, my <...> boyfriend is over there who runs this unit there.
And he forgot so much that he called his vice president Kamala Harris "President Harris." In general, anything can be expected from this man, who stands at the head of the most powerful power in the world. Except one. About "Putin is the killer" was said not in a public speech, but in an interview with a journalist, because the presidential administration had the opportunity to edit the final product in order to avoid a diplomatic scandal. But this was not done, which suggests that such a stuffing was deliberate.
A play on words?
If this was done on purpose, for what purpose? Let's go back to the source:
- So you know Vladimir Putin. You think he's a killer?
- Mmm hmm, I do.
The fact is that in English the word "killer" has more than one meaning. "Murderer" is the one who killed the other person. "Killer" in slang can be just a cruel, violent person. This word is used even for diseases or viruses, etc. "Sleepy Joe" expressed a very ambiguous attitude towards his Russian colleague. American experts believe that this was addressed not so much outwardly as in relation to an internal audience. However, if this were the case, nothing would have prevented the White House from explaining itself and apologizing to the head of a foreign state in order to smooth things over. This was not done.
"Black Mark" to Putin?
It is no secret that the leadership of the US Democratic Party has developed not the most friendly relations with the Russian president. Putin had trouble with both Barack Obama and the presidential candidate Hillary Clinton. During the 4-year period of Republican Donald Trump's rule, Washington preferred to focus on the priority Chinese area for itself, interacting with Moscow on a leftover basis. But now the democrats came to power in the White House, having got their hands on the organization of "color revolutions" around the world. And what do we see?
First, an "investigation" about his "palace in Genenjik" was rolled out against President Vladimir Putin by the hands of opposition leader Alexei Navalny. This story of the "biggest bribe" made a lot of noise, but did not lead to the desired result by the customers: neither a "palace" coup, nor a "revolution of dignity" in Russia from these revelations happened. The real estate in Gelendzhik, which turned out to be an apart-hotel, was recorded in its assets by the president's closest friend, businessman Arkady Rotenberg. And that's all, this is where the story ended. The last attempt to shake things up was the pompous return of Alexei Navalny from Germany to Russia. But no one allowed him to get on an armored car or a tank, and the oppositionist sat down for several years for his previous actions. FBK's anti-corruption activities, as expected, failed. What's next?
And then it should have become clear to everyone that no stories about "palaces" would allow people to take up axes and pitchforks to forcefully change the government. Russia is really not Ukraine, we do not have a Maidan tradition. All that remains for foreign ill-wishers is to continue to actively incite domestic oligarchs against the Kremlin, people with huge financial resources and personal connections, both in the West and in law enforcement agencies. In this context, the "killer" message becomes clearer.
Are you supporting the "killer"? Something like this will be asked of our billionaires who have long moved their families abroad and transferred assets there. In fact, "Sleepy Joe" sent a "black mark" to the Russian president, and now the Americans will carefully watch which of the oligarchs would prefer to be in which camp.
Moreover, further direct provocations against the head of the Kremlin are quite likely. The CIA will announce that it has "discovered" Putin's multibillion-dollar accounts in German or Swiss banks, tens of tons of gold in their underground vaults, and hundreds of real estate properties around the world.