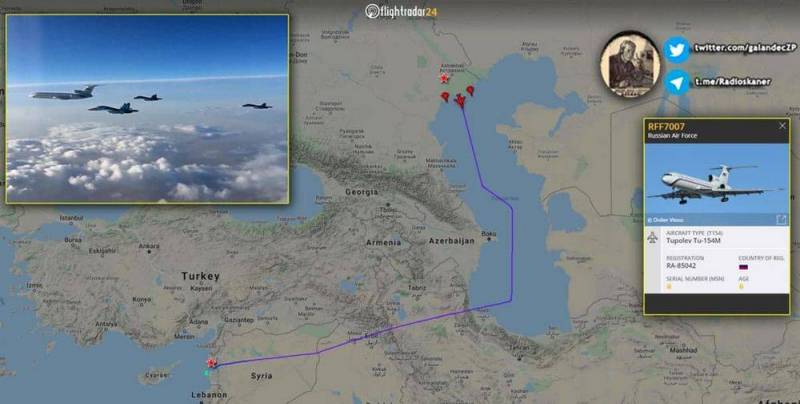 On March 18, 2021, from the Privolzhsky airfield near Astrakhan, the leader aircraft Tu-154M (tail number RA-85042) arrived at the Russian Khmeimim airbase (Latakia province), which accompanied a group of fighters from Russia to Syria. This was reported by the "Hunter's Notes" Telegram channel, which monitors the airspace.
We flew as usual through the Caspian, on a short route through Iran. The type of aircraft arrived is not specified
- said in a statement.
The increase in the aviation group of the Russian Aerospace Forces is probably due to the planned rotation. For example, on March 2, the same Tu-154M
escorted
from Syria to the Russian Federation, a group of 4 Su-35S fighters, which were in the SAR since February 18.
At the same time, Moscow continues to closely monitor the accumulation of forces and assets of the Turkish Armed Forces in northern Syria in the Ain Isa region (Al Raqqa province), where the situation remains stably difficult. On March 16, another Turkish military column was seen crossing the Syrian border.
Over the past six months, pro-Turkish militants, with the support of the Turkish army, have repeatedly tried to overcome the resistance of the Arab-Kurdish units of the Syrian Democratic Forces (SDF) and units of the government's Syrian Arab Army (SAA) in this direction.
The Turks regularly send large military columns to Syrian territory, openly ignoring the previously reached agreements.
In turn, Damascus is sending additional troops to meet the Turks, strengthening the position of the SAA in the region.
According to military experts, an escalation in the Ain Isa area is very likely. Ankara wants to cut the strategic M4 road that runs through the entire north of Syria from Aleppo to the border with Iraq.