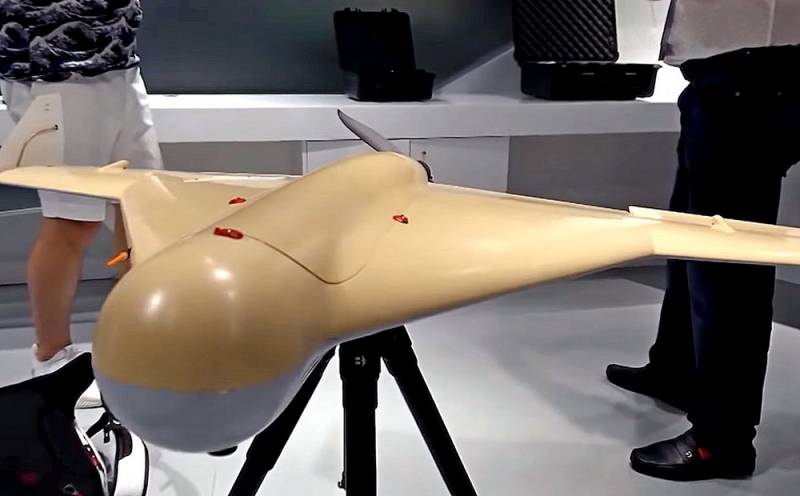 Russian silent loitering ammunition "Cube" was demonstrated at the IDEX 2021 arms exhibition in Abu Dhabi. It is reported that the development of the company ZALA AERO will be more mobile and more accurate than its counterpart Lancet from the Kalashnikov concern.
Unlike aircraft-type strike UAVs, which hit targets with missiles and bombs, drones like the Lancet and Cuba are themselves a projectile. Such a loitering ammunition is capable of being in the air for a long time, and then, at the right time, dive into a potential target.
Earlier, the Kalashnikov concern presented its version of the kamikaze drone called the Lancet. It is reported that the ZALA AERO "Cube", which is completing tests this year, will receive a wider range of attack profiles, as well as better noiselessness.
So, the new loitering ammunition will be able to attack a target both from low altitudes with an approach 3-5 meters above ground level, and sheer dive from 4,5 km on its own or external guidance.
A 15-kg projectile with a 3 kg warhead has a hidden launch using a catapult. According to the developer, the maximum deviation from the target is about 2 m, which speaks of the drone's almost "sniper" accuracy.
Unlike Western models, the domestic loitering ammunition has a high level of radio invisibility, which means that it is impossible to detect its attack without expensive and actively emitting electronic equipment. At the same time, the "Cube" is extremely easy to use and much cheaper than its counterparts, for which The Washington Post has already called it a revolution in the world of weapons, comparing it with the legendary Kalashnikov assault rifle.