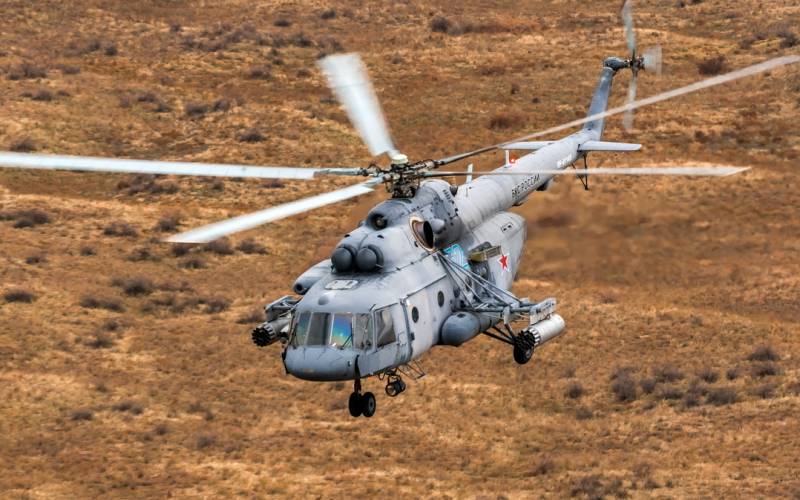 The Border Guard Service of Ukraine is demanding an explanation from the Russian side in connection with the violation by a Russian helicopter of the state border in the sky over the Sumy region. The press service of the Ukrainian department said that on Tuesday, March 16, a helicopter from the Russian Federation flew into Ukrainian territory at a distance of about 50 meters.
In connection with the incident, the Ukrainian border service sent appropriate notifications to the FSB of Russia with a demand to explain the ownership of the helicopter and to explain the circumstances of the violation by the Russians of the state border with Ukraine.
Earlier, the incident was reported by the Ukrainian propagandist Andriy Tsaplienko, according to which a Russian Mi-14.05 flew into the Ukrainian airspace of Ukraine at 8 local time, flying at an altitude of about 100 meters and invading the airspace of Ukraine at 50 meters.
Apparently, the Ukrainian military captured a helicopter of the Russian Federal Security Service, which was monitoring the border area. It can be assumed that information about the activity of the Armed Forces of Ukraine fighters in the immediate vicinity of the Russian border was received at the desk of the duty officer, after which a rotorcraft was sent to the indicated area. After making sure that the Ukrainian military was not taking any illegal actions, the FSB helicopter flew back. It is clear that the violation of the border, if any, was unintentional.
In this context, it will not be superfluous to recall that during the hot phase of the confrontation in Donbas, several dozen artillery shells flew in from the territory of Ukraine, which damaged 6 houses of Russians in the Rostov region. And on July 13, 2014, a resident of our country was killed by Ukrainian ammunition in the city of Donetsk (Rostov region).