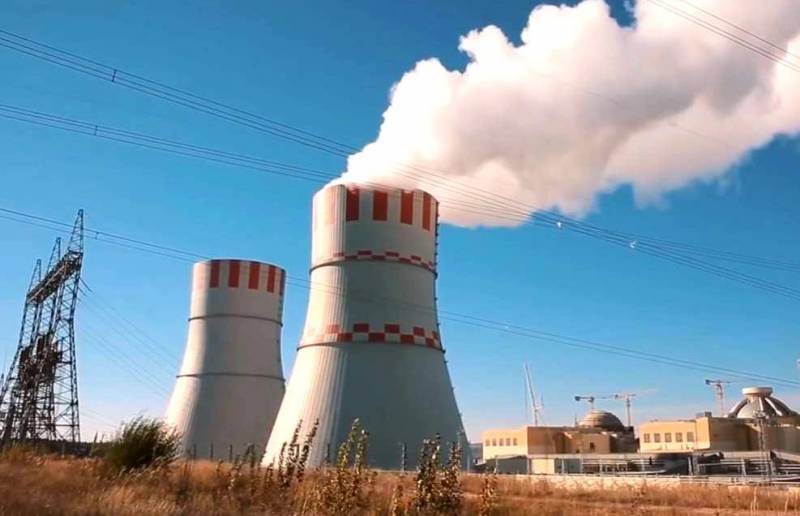 In two years, the country's first nuclear power plant "Akkuyu", located on the southern coast, should start operating in Turkey. The day before, Presidents Putin and Erdogan solemnly launched the construction of its third power unit. Everything looks nice and friendly, but this project causes a very ambiguous attitude towards itself. What opportunities does the first Turkish NPP open up and, at the same time, risks for Russia?
Note that Turkey is not the first country for which we are building a nuclear power plant. Suffice it to recall Bulgaria, Czechoslovakia, Finland, Romania, the German Democratic Republic, and this is not taking into account the nuclear power plants built in Ukraine, Lithuania, Armenia and Kazakhstan. Today the market for this kind of services is very saturated, here the US, France, Japan, and now South Korea and China are pushing their elbows. Where then do doubts about the loyalty of the course chosen by Rosatom in the Turkish direction come from?
Let's start with the positive aspects of this project. In terms of its parameters, Akkuyu is impressive. These will be four power units with a total capacity of 4800 megawatts, which will cover up to 10% of Turkey's total energy consumption. It is believed that due to further urbanization by 2035, electricity consumption in the republic will grow from 290 billion kWh now to 500 billion kWh. Thanks to the commissioning of the nuclear power plant, Ankara will be able to significantly diversify its sources of energy supply. In one way or another, hundreds of Russian and Turkish contractor companies are involved in the construction, which contributes to the development
economics
both countries. Over 11 thousand new jobs have been created directly on the spot.
The service life of a modern nuclear power plant is approximately 100 years. This is 60 years of operation of VVER-3 generation 1200+ nuclear reactors, then it can be extended for another 20 years, and then the power units will have to be gradually decommissioned and disposed of. For this entire period, Turkey will depend on the services of Rosatom and the supply of Russian nuclear fuel by TVEL. Thus, Moscow gets a certain lever of pressure on Ankara. But this is where the positive ends.
At first
, "Rostatom" went against the established world practice, applying in the case of "Akkuyu" a business model called "build-own-operate" (in English - BOO, Build-Own-Operate). Usually, a commissioned nuclear power plant becomes the property of the customer, and the construction contractor takes over the function of a technical consultant, and also supplies fuel, components and other consumables. Instead, the Russian state corporation created in Turkey its subsidiary Akkuyu Nuclear JSC, which owns 99,2% of the project, and therefore it will not only build it, but also own and directly sell electricity to the Turks. Accordingly, all responsibility for all possible incidents will rest on her.
Secondly
, from this it follows that it is Russia, represented by its state corporation, that is the only investor in the Turkish power plant. Its cost is estimated at $ 22 billion, and all expenses are in the American currency. It should be understood that, given the fall in the ruble exchange rate against the "American", this pleasure is very expensive. But with the prospects for return on investment, not everything is clear. Here Rosatom again decided to follow the unbeaten path. If, for example, during construction in Western European countries, investors set a condition for the government to purchase electricity generated at a certain fixed price to guarantee the return on investment, then it turned out differently with Turkey.
Ankara agreed only to the fact that during the first 15 years of operation of the nuclear power plant, 12,35% of electricity from its two power units at a fixed tariff of 70 US cents per kilowatt hour, and only 30% from the other two. The rest of the volumes will be sold at market value. Moreover, the Turks managed to knock out the condition that after the release of Akkuyu to payback, receive 20% of its net profit. The beauty! We know how to do business in state corporations, you will not say anything. It is also stipulated that up to 49% of the NPP shareholding may go to Turkish or other international investors.
Thirdly
, it should be borne in mind that Ankara is an extremely unpredictable and tough partner for Moscow. Turkey confronts Russia in several armed conflicts at once: in Syria, Libya, Nagorno-Karabakh, there is a prospect of its entry into the region of Central Asia, etc. At any moment, "Sultan" Erdogan may, on the basis of "environmental expediency", decide to close a nuclear power plant in his country, as, for example, Germany did. And nothing can be done about it: 22 billion Russian budget dollars will simply be thrown into the wind.
So there is still a big question, who really gets the leverage of political and economic pressure on whom ...