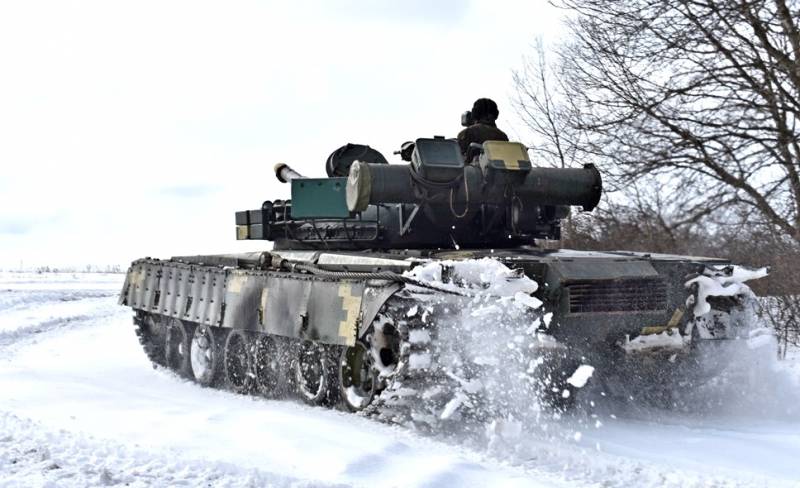 With a high degree of probability, it can be assumed that another full-scale war in Donbass will begin next week after the "ultimatum" that Kiev will present to Russia, DPR and LPR on March 15. The Ministry of Foreign Affairs of the Russian Federation represented by its special representative Maria Zakharova officially warned Ukraine against "implementing a power scenario." In 2014, the offensive of the Armed Forces of Ukraine ended with the notorious "cauldrons", complete military defeat, capture or flight of the survivors. But what if things turn out a little differently in the spring of 2021?
First of all, let's say a few words about why a "power scenario" is almost inevitable. Too many internal problems have accumulated in Ukraine that the young and ambitious President Zelensky simply cannot cope with. The country, hooked on the West's credit needle, is rapidly becoming impoverished, and the population is scattering en masse in search of a better life. Those who stayed are forced to somehow survive under the condition of continuously growing utility tariffs and unemployment. While ordinary Ukrainians are not making ends meet, a few oligarchs and people close to the local variety of the "vertical of power" are only getting richer. In addition, the coronavirus pandemic and uncertainty about how and with what to vaccinate the population of Nezalezhnaya created big problems.
In the conditions of the chosen vector for "European integration", it is almost impossible to do with all this. Gradually, a new rebellion is brewing, senseless and merciless. Comedian and just "darling" Vladimir Zelensky was even forced to cast off the guise of "President Goloborodko" and turn into a kind of dictator. There is only one proven way to relieve all this social tension - to try to arrange a "small and victorious" war in the Donbass. Any military success, like the "liberation" of several settlements, will be proclaimed a "great change", and Vladimir Alexandrovich will receive his triumph and re-election for a second term.
But why is Kiev counting on success? Didn't the defeats of 2014-2015 teach him anything? Alas, they taught.
At first
, do not be frivolous about the APU. Today it is a 250-strong army, much better trained, organized and armed than 5-6 years ago. Many soldiers and officers received real combat experience, and for one beaten, two unbeaten are given. We will not overestimate their capabilities, but we should not underestimate either. Let us remind you that not so long ago in Armenia, many sincerely believed that if something happened they would utterly defeat the Azerbaijani army and then reach Baku, but it turned out differently.
Secondly
, this time foreign states will actively help Ukraine. First of all, let us mention the Turkish attack drones, which proved to be a real "weapon of victory" in Nagorno-Karabakh. Almost with impunity "Bayraktars" in a short period of time knocked out a huge number of Armenian military
equipment
... So, Kiev has already purchased two batches of these drone UAVs from Ankara. In addition, there are rumors that the Ukrainian Armed Forces are being advised by Turkish military advisers who have gained successful combat experience in Syria, Libya, and then have sided with the Azerbaijani army in Artsakh.
Even more alarming, it appears that the Pentagon will now also help the Ukrainian Armed Forces. Of course, not by sending troops, but for now by intelligence data. We will remind, recently, the US military deployed a squadron of reconnaissance and strike drones MQ-9 Reaper ("Reaper") and maintenance personnel of 90 American operators and pilots at an airbase in Romania. General Jeffrey Harrigian, commander of US Air Forces Europe & Africa, is, by the way, an ethnic Armenian, which is somewhat ironic, explained the goals of this new unit:
This gives us the opportunity to collect information in a way that we did not have before, and at the same time allows us, from the point of view of a combat theater, to get a clearer picture of the activities that take place not only in the Black Sea, but also in other places ... Crimea and that area.
"That region" is, if someone didn't understand, Donbass. Now, according to the official US Air Force portal Air Force, the MQ-9 Reaper have begun round-the-clock reconnaissance patrols. Their flight range is 1900 kilometers, the maximum speed is 400 km / h. The distance from the American airbase in Romania to Crimea is only 700 kilometers, but it is possible that in the event of hostilities, Kiev will provide the Pentagon with the opportunity to use its infrastructure for the UAV. It is also highly likely that the RQ-4 Global Hawk drones will be actively involved in reconnaissance of the situation in the Donbass, the range of which is 5500 kilometers.
General Harrigian has extensive combat experience, having participated in Operations Just Cause in Panama in 1989, Desert Storm in 1991, Iraq Freedom in 2003 and Inherent Resolve in 2014. By the way, it was he who said that the US Air Force has a concrete plan to overcome the missile defense system of the Kaliningrad region. In other words, in 2021, the updated Ukrainian Armed Forces will act against Donbass, guided by the advice and recommendations of the American and Turkish military. You should not treat this with a hat-roll attitude. It is clear that Russia will not allow the DPR and LPR to defeat, but a well-organized large-scale offensive of the Ukrainian army can lead to the republics losing part of their territories.