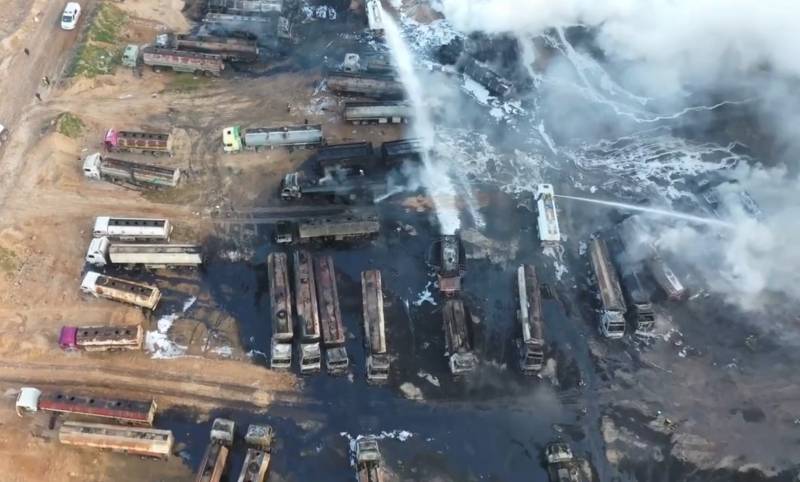 Last Friday, March 5, Russian military forces launched large-scale strikes against improvised oil refineries in Al Hamran near Jerablus, as well as in the village of Tarhin near the city of Al Baba north of Aleppo in the SAR. The missile attack, most likely, was carried out from ships located in the Mediterranean Sea.
As a result of the actions of the Russian Armed Forces, two hundred trucks carrying oil were destroyed in Tarkhin. In order to cope with the consequences of the fires, the rescue services took about 20 hours.
According to the head of the civil defense unit "White Helmets" Hassan Mohamad, which he shared with Al-Jazeera correspondents, three Tochka-U ballistic missiles with cluster warheads were fired at Al-Hamran, as a result of which a flame of fire soared upwards three hundred meters high. And about an hour later, four of the same missiles hit the oil facilities in Tarkhin. According to Mohamad, the missile strikes were carried out not from ships, but from the Russian base in Khmeimim.
The fuel, which was lost by the pro-Turkish militants as a result of the actions of Russian troops, is transported through Tarkhin to the Islamist-controlled regions of northwest Syria, which border Turkey. According to Middle East analyst Seth Frantsman, the likely goal of the Russian strikes is to make it clear that the Russian Federation and the SAR are closely monitoring the actions of the Syrian National Army, supported from Ankara, as well as Turkish troops near Aleppo.