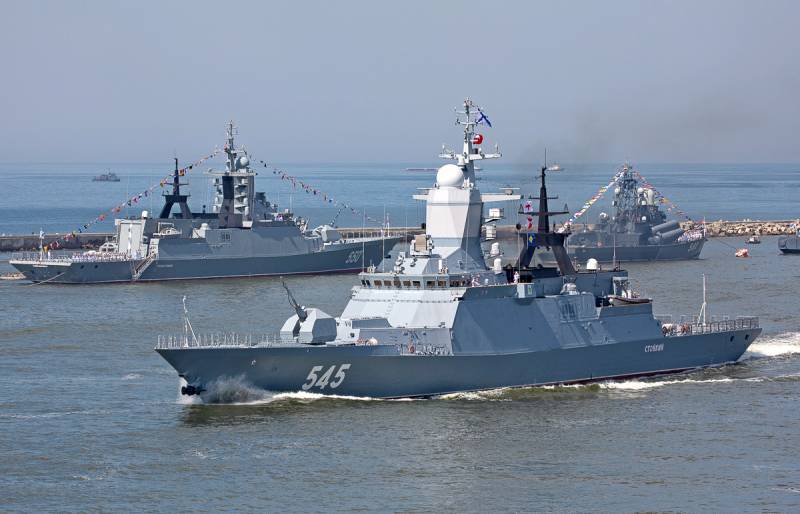 Ten years ago, the Baltic Fleet of the Russian Navy was not much different from the Polish Navy. Today, Russians are rapidly gaining strength in the Baltic. They are consistently implementing their plans, and we are still having a discussion about the feasibility of having a fleet, the Polish Internet publication BiznesAlert reported on March 10, 2021.
In this study, we will be concerned exclusively with the marine component of the Baltic Fleet, although the Russians also have air and ground components (naval aviation and coastal troops). The headquarters of the fleet is located in Kaliningrad, and the bases of surface ships and submarines are the ports of the Kaliningrad (Baltiysk) and Leningrad regions (Kronstadt, St. Petersburg, Oranienbaum, Priozersk, the waters of the eastern part of the Gulf of Finland and Lake Ladoga). Over the past decade, the most backward Russian fleet has undergone major re-equipment.
The Baltic Fleet is armed with 54 ships: 1 rank 1 destroyer "Persistent" (project 956-A "Sarych"), 2 patrol ships of the far sea zone of rank 2 (frigates) "Fearless" and "Yaroslav the Wise" (project 11540 "Yastreb" ), 4 corvettes of the near sea zone "Guarding", "Soobrazitelny", "Boyky" and "Stoyky" (project 20380 of the "Guarding" type). In addition, there are 15 small missile and anti-submarine ships, of which: 4 MRKs of 3 ranks of project 1234.1 "Gadfly", 6 MRKs of 3 ranks of project 1331-M, 2 MRKs of project 21631 "Buyan-M" and 3 MRKs of project 22800 "Karakurt" ...
The fleet also includes: 4 large amphibious assault ships (BDK) 2 ranks of project 775, two amphibious air cushion ships of the 3rd rank of project 12322 "Zubr", 11 missile, anti-sabotage and patrol boats of four types, 9 landing boats of three types, 2 submarines boats of the project 877 "Halibut".
Since 2010, the BF has received 16 ships, including corvettes, MRKs and boats. The scale of re-equipment would have been even greater if not for the events in Ukraine, which affected the Russian shipbuilding industry.
The main task of the Baltic Fleet is to maintain Moscow's military control over the Baltic. But in recent years, the BF has been actively involved in assisting in the implementation of energy projects in its water area. The vessels were engaged in hydrographic work, trawling operations, protection of construction sites, patrolling and other related issues during the construction of the Nord Stream and Nord Stream 2 gas pipelines.
The Baltic Fleet of the Russian Navy is confidently strengthening, which cannot be said about the Polish Navy, which is losing its already insignificant combat potential every year. The Russians are systematically, although not without problems and delays, renewing their fleet. The Poles need to take an example from the Russians, but it is not worth duplicating all their decisions, since Moscow and Warsaw have different tasks in the Baltic, sums up the media from Poland.