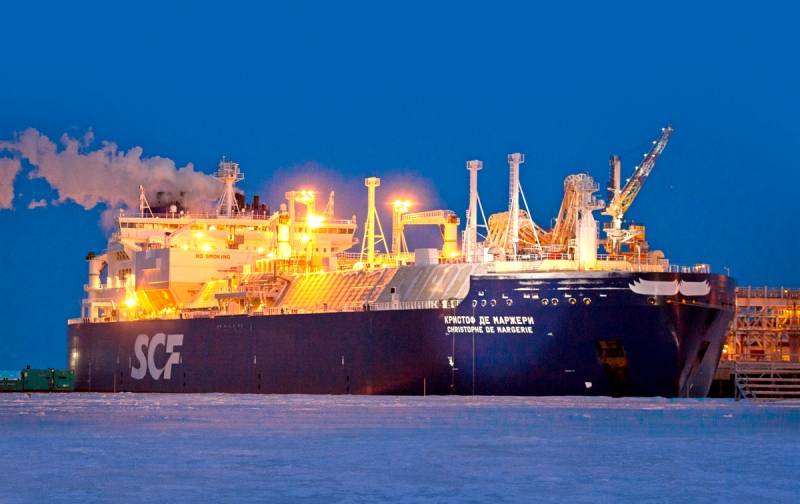 A "historic" event took place a few days ago. Gazprom has delivered the first shipment of carbon-neutral, or green, LNG to the UK. Tanker LNG Megrez arrived in Wales from Murmansk. Inevitably, one has to ask the question, when did Russian gas turn green? Are we missing something?
In Europe, "green" is, for example, hydrogen produced from seawater by electrolysis using electricity generated from alternative renewable sources (RES): wind turbines, solar panels, biofuels, etc. That is, in the foreseeable future, for the export of hydrogen to the EU, for which Gazprom has certain types, Russia should have a developed renewable energy infrastructure, from which the production of "green hydrogen" will be powered. Today, the share of renewable energy in our total balance is extremely small. Two years ago, Minister Alexander Novak promised to bring it to 2035% by 4. And suddenly it turns out that our "national treasure" has already started exporting "green" LNG. Perhaps it is in vain that we sometimes kindly mock the effectiveness of the management of a state-owned company?
In fact, the top management of Gazprom cannot be denied resourcefulness. Instead of investing in the development of renewable energy in Russia, they have managed to turn liquefied natural gas into carbon neutral on paper. And all this was done within the framework of international law.
To understand the issue, you need to delve a little into history. An attempt was made to solve the problem of global climate change on Earth in 1997 by signing the Kyoto Protocol. Its declared goal was to reduce greenhouse gas emissions into the atmosphere. Within the framework of an international agreement, each country received a certain quota for emissions of polluting gases, and in case of shortage, the right to sell it to other participants. This was of great importance, as countries with less developed industries, such as Poland, the Czech Republic, Slovakia and Ukraine, were able to earn extra money by selling their quotas to the more developed ones. It is also important that the largest
economy
the world at that time, the United States, signed the protocol, but did not ratify it, developing India and China did not undertake any obligations, and Canada in 2012 completely withdrew from it. The main consequence of this climate agreement was the emergence of market mechanisms, national and international emission trading systems. The most respected is the European Emissions Trading System (ETS), established in 2005. Since 2017, a similar structure has been operating in China. The EU ETS has become the inspiration for regional systems in Canada, New Zealand and the US state of California.
However, in addition to government regulation, there are also "voluntary carbon markets" and "green certificates". The world's largest energy corporations ExxonMobil, Royal Dutch Shell, ConocoPhillips, Total and Equinor are showing great interest in them. These voluntary environmental protection activities are regulated by international standards for verification of reduction units, among which are: Verified Carbon Standard (VCS), Gold Standard (Gold Standard), Voluntary Offset Standard (VOS), Development Standards projects in the field of climate, community development and biodiversity (Climate, Community & Biodiversity Standards, CCBS), Plan Vivo and others.
And here we are smoothly returning to the supply of "green" LNG from Russia to the UK. The deal reportedly used Verified Carbon Standard (VCS) and Climate, Community and Biodiversity emission certificates. The Anglo-Dutch company Shell Global LNG Limited, which we mentioned above as a participant in the voluntary carbon market, acted as Gazprom's partner. The main problem with LNG is that during its production (liquefaction and reverse regasification) it is impossible to do without significant carbon emissions into the atmosphere. How, then, did Russian gas suddenly turn green?
Everything is very simple: a Russian and an Anglo-Dutch company, by mutual agreement, "extinguished" harmful emissions at the expense of Gazprom's quotas. Steve Hill, Executive Vice President of Shell Global LNG Limited, explained:
Using certifications from environmental projects to offset emissions that cannot be eliminated or reduced is an important step in finding ways to reduce emissions throughout the LNG production and distribution chain.
In other words, with a flick of the hand, a batch of Russian LNG on paper has become climate neutral, gaining a serious competitive advantage over the American one. And most importantly, all this is done within the framework of international environmental law. Our country has great potential in this respect. It is much easier for Russia to reduce emissions of harmful substances into the atmosphere than others. Our forests occupy a huge area, while they can and should be actively restored, compensating for felling. The country's population is relatively small, energy consumption per capita is noticeably lower than in the West. Industrial production volumes are also incomparable with the main competitors. There is little good in this, but, as they say, there is a silver lining. As a result, Moscow has accumulated a large number of emission quotas, both under the Kyoto Protocol and the later Paris Agreement. And now there is an opportunity to implement them in the scheme for "greening" the gas exported abroad. Judging by the enthusiastic reaction of the British partners, everything suits them so far.
True, such an unexpected competitive advantage in Russia is unlikely to suit the United States, which is trying to push its LNG everywhere. It is possible that under President Joe Biden with his Green New Deal, Washington will try to revise previous environmental agreements in its favor. This is not a quick business, but something like this is to be expected. Therefore, it will be correct to continue to stake not so much on the paper "greening" of its fuel by Gazprom, but on the real development of renewable energy sources in Russia, which will be used in the production of competitive domestic products in the new environmental realities.