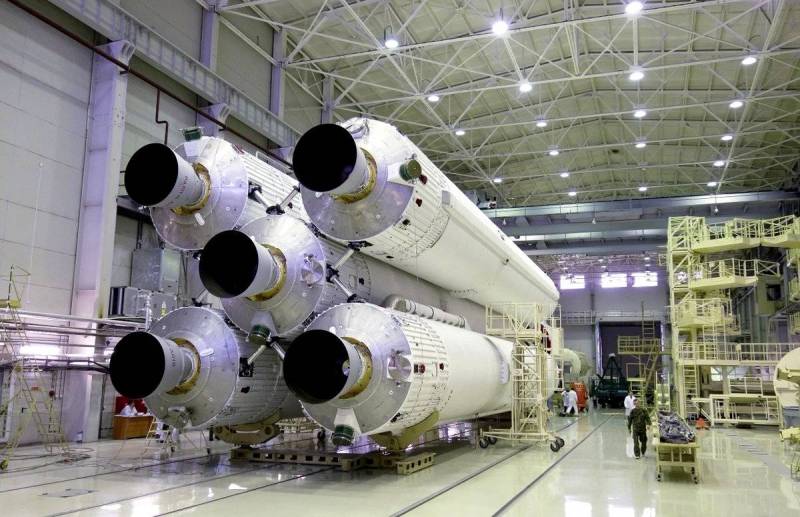 The space race was once a matter of fundamental ideological and technological confrontation between the two superpowers, the USA and the USSR. But today it is just a business where big, very big money is spinning. And new players are gradually squeezing our country out of its usual positions as a great space power.
So, after the closure of the Space Shuttle program, NASA was not able to independently deliver its astronauts to the ISS. To do this, the United States had to use Roscosmos as a "cab". However, in the 9s, the Americans relied on the development of private astronautics, allocating budget funding to SpaceX and Boeing. As a result, the launch vehicle (LV) Falcon 100 and the Crew Dragon spacecraft from billionaire Elon Musk appeared, which should become the main means of delivering astronauts of the US National Space Agency to the ISS. Also on the way is the reusable space shuttle Boeing CST-7 Starliner, capable of putting up to XNUMX people into orbit at a time. Thus, Washington will soon completely get rid of Moscow's dependence on this crucial issue.
It is interesting to see how the US supports its "private" corporations in practice. Both SpaceX and Boeing received several billion dollars from the state for the development of their launch vehicles and ships. At the same time, the competitive advantage of Elon Musk's company over Roscosmos was constantly and actively declared due to its lower cost of delivery. But now suddenly NASA has decided to sharply, almost 7 times, increase the tariffs for its contractors for the delivery of astronauts to the ISS. In particular, the cost of delivering 1 kilogram of payload to orbit increased from 3 to 20 thousand dollars, and back - from 6 to 40 thousand. The head of Roscosmos Dmitry Rogozin reacted to this as follows:
When the market was "stimulated", i.e. cleaned out of all non-American competitors, then prices can be raised again to an almost natural level.
This is a note to all adherents of the liberal
economic
theory with its "invisible hand of the market" and incredibly efficient private corporations. Our Roscosmos, which is already in a state of stagnation, is gradually being squeezed out of the market. In numbers, it looks like this: last 2020, the domestic state corporation carried out only 16 launches, taking third place in the world ranking, the first was China with 39 launches, and the second was the United States with 37. The saddest thing is that today Russia no longer has to compete with Americans, Europeans or Chinese, but completely different players.
For example, India is now also entering the low-cost commercial launch market. Not everyone knows, but this country has a very serious and ambitious space program. On February 28, 2021, the Indians launched their PSLV-C51 launch vehicle, which put 19 satellites into orbit at a time. Among them were 13 American satellites and 1 Brazilian one called "Amazonia-1". The customers were very satisfied. To date, New Delhi has successfully launched 342 foreign satellites into orbit. The Indian PSLV competes directly with our missiles. In 2008, using this launch vehicle, 10 satellites were launched at once, which broke the previous Russian record. In 2014, Roskosmos bounced back by setting a new bar in 37 vehicles. But in 2017, New Delhi set a new record of 104 satellites at a time with a PSLV-XL rocket modification.
In addition, India has its own manned space program. Since 2006, the country has been developing a ship called the Gaganyaan, which in 2014 successfully passed a suborbital test followed by a splashdown. The ship is designed to deliver 3 crew members, its next tests are scheduled for December 2021. If successful, India will become a new space superpower, independently performing manned flights. So that's it ...
Now let's get back to our business. It is obvious that the domestic cosmonautics is in a deep systemic crisis. The head of Roscosmos Dmitry Rogozin, in his usual manner, publicly thanked the Americans for giving him a kick:
In the rocket and space industry in Russia, a struggle has begun to reduce costs and optimize the price of Roskosmos launch services. And for this you need to say thank you to the partners.
It is not entirely clear what prevented all this from being done earlier, preventing the country from lagging behind in the space industry. Perhaps it is still worth thinking about changing the leadership of such a serious organization to a more professional specialist, at least having a specialized education and relevant work experience. Dmitry Olegovich, as a basic philologist, is still better off doing something more suitable for him, for example, to work in the Ministry of Culture or in the Film Fund. There, his uncontrollably rushing out creative talents will clearly be more in demand. However, it is obvious that personnel changes alone cannot help matters. The crisis in the national cosmonautics is of a systemic nature. There is also an emerging
technological
backlog and funding shortfalls caused by budget sequestration and unfair competition practices.
But this does not mean at all that it is high time to give up on Roscosmos. No, it's just time to admit that today it is becoming extremely problematic to pull all this out alone. The time has come for alliances and international cooperation. For example, the agreement on cooperation with China in the exploration of the Moon seems to be very correct. Moscow has both technologies and years of experience, the value of which cannot be overestimated, while Beijing has both technologies and financial resources. The Global Times commented on the alliance's prospects as follows:
They were the first to fly into space, the first to go into outer space, to cope with fires on the ISS, air leaks and other hazards; the experience and lessons learned from these emergencies in the implementation of the lunar science station project will indeed be more valuable than gold.
The joint program will develop spacecraft capable of automatically operating in the orbit and surface of an earth satellite. In the future, we can talk about the creation of a habitable lunar base. But don't put all your eggs in one basket. Also, for greater diversification of possible risks, as opposed to the PRC itself, Russia should go for rapprochement in the field of astronautics and with India, which is gaining strength.