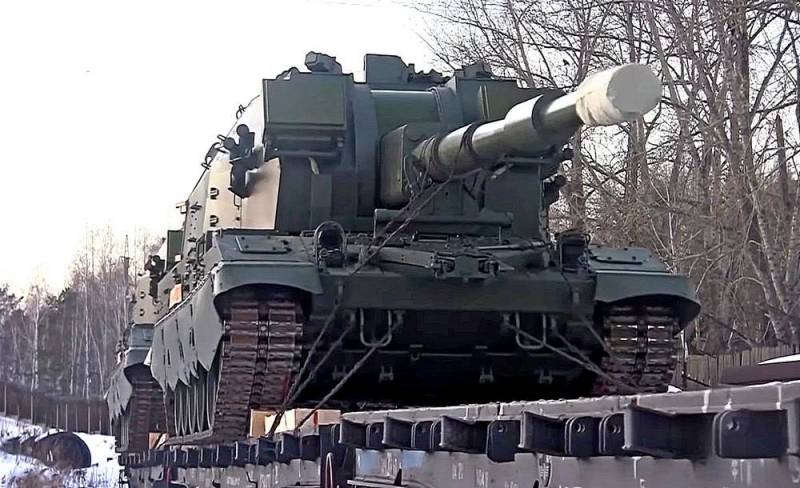 The Russian military-industrial complex has achieved yet another impressive success. Russian howitzers bypassed American cannon artillery in firing accuracy, reaching 96% as the first in the world. It is reported by
RIA News"
, referring to the information of the press service of the state corporation "Rostec".
It is noted that artillery systems from the United States, firing 155-mm guided missiles M982 Excalibur, have an accuracy of 92% (the Americans themselves say this).
As for the Russians, they use 152-mm guided (corrected) Krasnopol shells, 120-mm laser-guided mines KM-8 Gran and Kitolov-2 shells, as well as 122-mm Kitolov-2M shells. ". They all have a homing head. In this case, the Americans use an inertial guidance system with satellite correction.
The combination of the developed guided munitions with new automated fire control systems makes it possible to ensure the destruction of enemy targets with a probability of up to 96%
- said in "Rostec" on March 7, 2021.
The state corporation clarified that the American artillerymen are capable of shooting with the specified accuracy only at stationary targets. At the same time, Russian ammunition allows firing at moving targets, which was confirmed during the shooting.
Note that in the USA
underway
tests of a prototype of a new ACS XM1299 under the Extended Range Cannon Artillery (ERCA) program, developed on the basis of the M109A7. In 2021, it is planned to complete its testing, and in 2023 they want to adopt the ACS. In 2024, she should have an automatic loader.
Now in the 2nd Motorized Rifle (Taman) Division of the 1st Tank Army of the Western Military District of the RF Armed Forces, testing of 10 units of the newest self-propelled guns 2S35 "Coalition-SV" is being completed. In the near future, they should go into service and will be involved in the international military maneuvers "West-2021" this fall.
ACS "Coalition-SV" is based on the platform of the T-90 tank, equipped with a 152-mm cannon 2A88 (barrel length 52 caliber) and has a crew of only 3 people. The self-propelled gun boasts a rate of fire of 10-16 rounds per minute, the ammunition carried is 50-70 rounds. The maximum firing range reaches 80 km. In addition, "Coalition-SV"
is tested
also wheelbase and can become a ship's weapon.