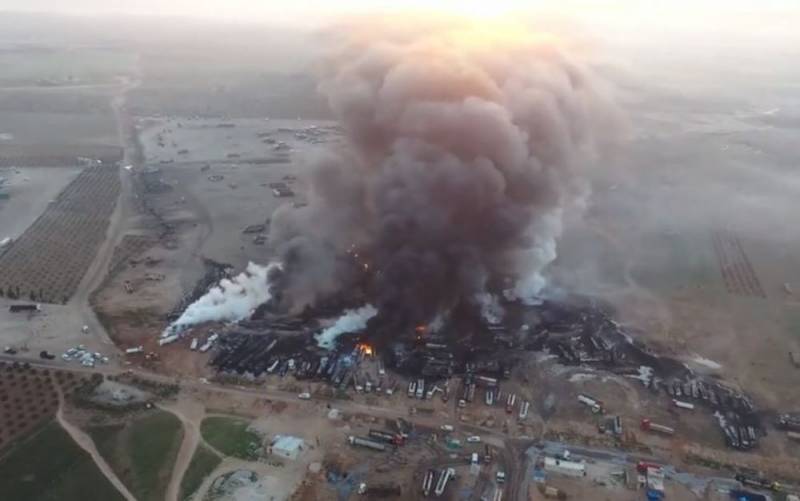 5 March 2021 Middle Eastern media
сообщили
that unknown forces destroyed an oil refinery, storage facilities with oil products and places of concentration of specialized vehicles (tank trucks) in northern Syria in the Aleppo province in the territories controlled by pro-Turkish militants. Sources were not able to say for sure who carried out the attacks, or how they did it (airstrikes, shelling, rocket attacks or sabotage).
On March 7, a video from one of the attacked locations appeared on the Web. After that it became known that at least one of the objects was destroyed from the OTRK 9K79-1 "Tochka-U" of the Syrian Arab Army. We are talking about the object in the published video. The apocalyptic footage demonstrates the consequences of an impact on a fuel warehouse - dozens of burnt or dying trucks, which are still trying to extinguish firefighters.
The object was a large area where vehicles loaded with crude oil and oil products were assembled. It was also a kind of logistics center, where goods were temporarily stored for further smuggling and redistribution.
Further, the raw materials stolen from the Syrian bowels and the finished products made from it were sent mainly to Turkey, which has become fabulously rich over the past 10 years, while the war is going on in the neighboring country. Part of the fuel and lubricants remained at the disposal of the militants. Note that CAA is not the first time
inflicts
similar strikes against militant targets in the region.