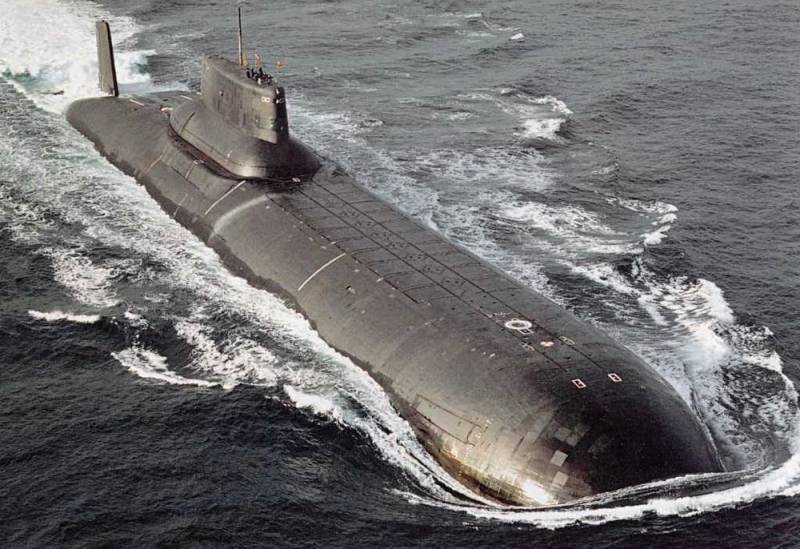 If you've ever watched the film adaptation of The Hunt for Red October, you're probably familiar with Russia's truly enormous Typhoon-class nuclear submarines. These giant Cold War submarines are still the largest ever built submarine in the world and are more terrifying sea monsters than you might imagine, writes the American magazine Popular Mechanics.
Typhoons are real leviathans. To appreciate how big they are, it is enough to mention that these submarines are more than 1,5 times the length of a standard football field and 3 times the height of the average American home.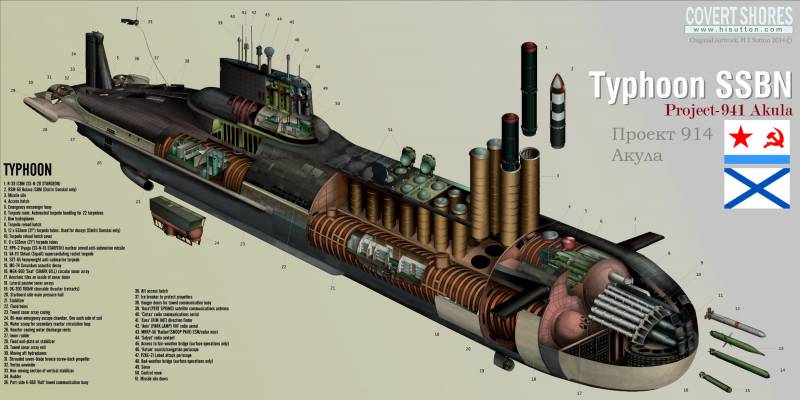 In the 1970s, the USSR embarked on a new nuclear weapons program. Heavy missile submarine strategic cruisers of Project 941 "Shark" (NATO codification: "Typhoon"), with a displacement of more than 23 thousand tons, had to accommodate 20 ballistic missiles R-39 (RSM-52). Six such nuclear submarines were built. As of 2020, one TK-208 "Dmitry Donskoy" (launched in 1980) remained in service, two more nuclear submarines, TK-17 and TK-20, were awaiting disposal.
The size of the Typhoons made it possible to get away from the Spartan situation and significantly improve the conditions for the stay of submariners. The engineers of the Rubin Design Bureau even equipped the nuclear submarine with a solarium, a swimming pool and a sauna.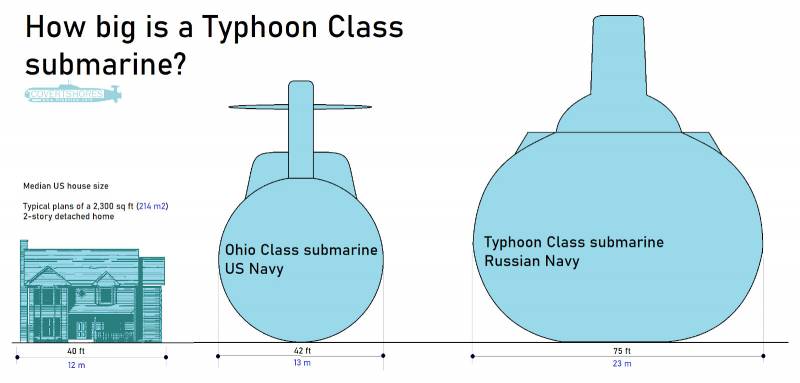 Typhoons are only a few meters longer than Ohio, but they are much wider and taller, and they look so menacing because their wheelhouse is located behind the missile silos, not in front of them.
The fictional "Red October" was supposed to be an even more powerful nuclear submarine, containing 26 ballistic missiles, with a total nuclear firepower of 52 kilotons (a 000 kiloton bomb was dropped on Hiroshima).
The experience of operating Typhoons allowed the Russians to develop new Project 955 Borey submarines of the fourth generation, armed with 16 R-30 Bulava SLBMs. Each nuclear submarine received 7200 kilotons of power, but the missiles became much more accurate and smaller. The newest submarines have turned out to be more compact and the Russian Navy plans to acquire at least 8 units for the Northern and Pacific fleets.
It should be noted that Typhoons were created even before computers and solid-propellant rockets appeared, so they were very large. Probably, such nuclear submarines will never appear in the world, although knowing Russia, you should never say "never", summed up the media from the United States.