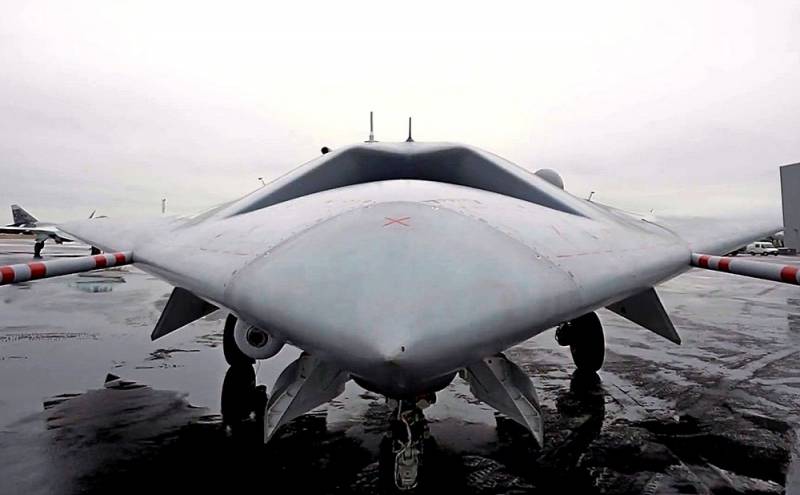 "Orlan", "Orion", "Altius", "Okhotnik" - the domestic media have recently been full of reports about Russia's breakthrough in creating its own unmanned aircraft. And, yes, it really is. We finally have quite competitive reconnaissance and strike UAVs, which are not inferior, and in some parameters even surpass their foreign counterparts. It seems that we managed to jump on the step of the last car of the rapidly sweeping train? Alas, the real "drone race" is still ahead.
Let's ask ourselves a question, what is the most valuable thing in combat aviation? An airplane that can cost tens or hundreds of millions of dollars? No, the most valuable is the one who can control it, performing the tasks assigned by the military command, that is, its pilot. Not everyone who wants to become a combat pilot is given, and the process of his training is a long and expensive business. A new fighter can be built quickly enough, but it is not possible to replace a dead pilot. Even in peacetime, rotation takes place regularly, pilots retire on a well-deserved retirement, and therefore constantly have to prepare a worthy change for them.
Any defense ministry is faced with the primary task of retaining the cadre of its air force. And today, the main trend is to provide the pilot with an artificial intelligence (AI) controlled UAV. The piloted drone must repeat all its maneuvers after the leading aircraft and carry out attacks on the same targets. In addition, such a UAV, created by stealth
technology
and controlled by AI, must be the first to break into the enemy's air defense zone and from there give target designation to the leading fighter, who will open fire from a safe distance. At the same time, the drone itself must be able to "hit back" by firing missiles from planes and working on ground targets.
The result should be a very effective tandem of two aircraft controlled by humans and artificial intelligence. This is a very promising area, which is now being pursued by all advanced countries. So, the other day the Australian division of the American corporation Boeing successfully tested the UAV Loyal Wingman - "Faithful Wing". Work on this device began in 2019. Its task is to provide fire support to the leading manned aircraft, as well as jamming. The Australian-American UAV will be controlled by artificial intelligence and operate in a semi-autonomous mode. It is believed that one aircraft will be able to simultaneously control and interact with 16 Faithful Wingmen.
For us, against whom such weapons are being developed, these are not very good
news
... However, Russia has already prepared its own answer - this is the super-heavy shock S-70 "Okhotnik". It was developed using stealth technology according to the "flying wing" scheme and will be armed with missiles, guided and unguided bombs. Initially, this UAV was created to interact with the fifth generation Su-57 fighter. The dimensions of the "Okhotnik" will make it possible to place the most modern avionics on it, to act in conjunction with the aircraft against ground and air targets. This means that our country is keeping pace with the times. And that's not all. Another promising domestic strike UAV "Thunder" is somewhat less well-known. It is being developed by the same Kronshtasht company as by Okhotnik. From its official press release, the main purpose of this attack aircraft follows:
The Thunder drone is used as a "slave" in the forward echelon of mixed manned-unmanned strike aviation groups. This will save the lives of the pilots while crossing the air defense zone. This UAV can be armed with air-to-surface missiles and guided aerial bombs with a caliber of 100 to 500 kg.
Our "Thunder" is an analogue of the American XQ-58 Valkyrie UAV manufactured by Kratos Defense & Security Solutions. With a takeoff weight of 7 tons and a payload of 500 kg, the Russian unmanned attack aircraft will be able to interact as a slave not only with the stealthy Su-57, but also with the Su-35 multipurpose super-maneuverable fighter. It turns out that by launching all these UAVs in series, Russia will catch up with the United States, Israel and other technological leaders in one giant leap, from which it was forced to lag behind in the "dashing 90s" and "noughties?"
Alas, everything is a little more complicated than we would like. Everything is like in a fairy tale: the further, the worse. The elements of AI in the control of unmanned aircraft are the present day, but the near future belongs to full-fledged artificial intelligence, which controls the strike UAVs and not only them. The United States has been actively working in this direction for several years now. In 2019, the Pentagon launched a project called Alpha Dog Fight, where it pitted humans and AI in aerial combat. The American company Heron Systems with a staff of only 30 people has developed a self-learning computer program that in 2020, in five virtual F-16 fights out of five, defeated an experienced pilot-instructor dry.
To be honest, this is a little scary. Under the control of AI, the fighter could perform such maneuvers that a person simply could not stand. As a result, his F-16 went into a more advantageous position for attack and destroyed the enemy. At the same time, the program continued to learn from its own and others' mistakes. If this becomes a trend, a country with such technologies will have a significant advantage over its opponents. Today UAVs, tomorrow - unmanned aircraft, unmanned tanks, unmanned ships, unmanned submarines, and the day after tomorrow, what are walking cyborgs shooting people from plasma guns? First assigned to him enemies, and then the AI ​​itself will decide who is his enemy? Somewhere we have already seen something similar ...