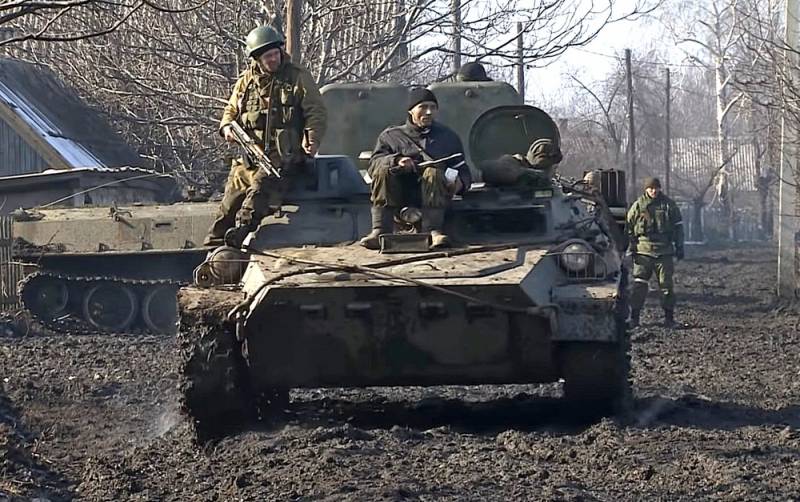 Six years ago, on February 18, 2015, the armed forces of the DPR and LPR completed the encirclement and defeat of the group of Ukrainian troops near Debaltseve, which resulted in numerous victims of the Armed Forces of Ukraine, as well as many weapons surrendered without a fight. Nevertheless, the former chief of the General Staff of the Ukrainian Armed Forces, Viktor Muzhenko, called the actual defeat of the Armed Forces of Ukraine near Debaltseve a very successful maneuver of the Ukrainian army. NATO also responds positively to Kiev's actions.
Defensive operations and withdrawal are considered successful if the enemy suffered serious losses, and this forced him to abandon the further implementation of the plan
- Muzhenko explained his point of view in an interview with the Fakty publication, believing that such a description of military operations is true in relation to the Debaltsevo boiler.
The former head of the General Staff said that allegedly after this operation, Vladimir Putin held a meeting at which it was decided not to continue an active offensive operation, since it is impossible to neutralize the artillery installations of the Armed Forces of Ukraine without aviation.
Muzhenko also mentioned that the former commander-in-chief of the Joint Armed Forces of the North Atlantic Alliance, General Wesley Clarke, spoke of those events as "the best operation to break the encirclement after the Second World War."
Meanwhile, the losses of the Ukrainian army and the National Guard in Debaltseve amounted to about 3 thousand soldiers and officers, while the militia lost 150 personnel. The defenders received at their disposal more than three dozen Ukrainian infantry fighting vehicles, several dozen tanks and tons of ammunition of various calibers. In addition, the DPR and LPR seized an important transport point, which made it possible to carry out railway communication between Donetsk and Lugansk.