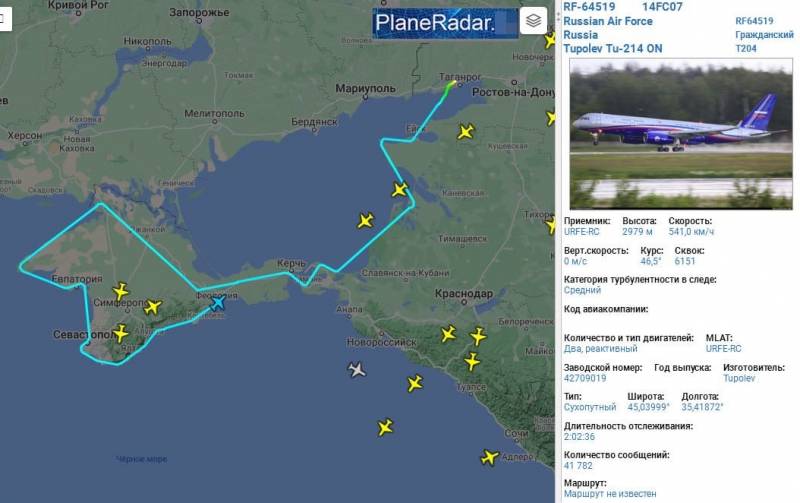 The Tu-214ON "Open Sky" aerial surveillance aircraft carried out a special mission along the borders of the Crimea, the purpose of which was not reported. However, Web users drew attention to the actions of Russian aviation near the Crimean Peninsula.
The Tu-214ON is equipped with an on-board aviation surveillance complex (BKAN), which includes infrared and television cameras, digital devices for aerial and photography, a side-looking radar system, a navigation complex and an on-board digital computer complex (BTsVK).
The BSC of the aircraft carries out the tasks of acquiring an image of the observation region, recording the obtained data, documenting observation equipment and information, generating navigation data for the observation equipment and managing them.
The Tu-214ON onboard computer complex consists of five automated workstations that make up a single local system: an operator of an aerial photographic complex, an operator of a radar system, an operator of infrared equipment, an operator of television equipment, and also a senior flight representative.
Previously, it was planned to use these aircraft during the overflight of the US territories under the Open Skies Treaty, but the American side convinced its authorities to prevent the Tu-214ON from being used in this mission due to the possibility of installing "undocumented" reconnaissance systems on board.
After Washington's withdrawal from the Open Skies Treaty, Tu-214ONs were equipped with additional equipment and are used for reconnaissance purposes.